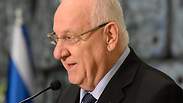 President Rivlin
Photo: Mark Neuman
The British daily the Guardian has selected Israeli President Rueven Rivlin as one its 'heroes' for 2014.

The left-leaning paper said that "Reuven 'Ruvi' Rivlin is an unlikely hero" due to his lifelong affiliation with the Likud and support of the idea of a "Greater Israel".

Yet the paper said that "ever since his elevation to Israel's largely ceremonial presidency he has acted as something like his country's conscience – both castigating what he sees as a national slide into racism and intolerance, and standing up for the civil rights of Palestinians."

Rivlin has made waves in Israel, decrying numerous instances of injustice, be they political, racial or ethnic as a "sickness". Rivlin defends his position by saying it is part of the Likud's long historical tradition of liberalism, but that faction of the party has been increasingly pushed aside by far-right and religious MKs.

They further praised Rivlin for a video he posted with an 11-year-old Arab Israeli boy from Jaffa.

Video: GPO ( )

In the video, George Amira and Rivlin take a stand against school bullying, and hold up signs saying "We are exactly the same."

The Guardian summarized, saying, "Rivlin's office may be ceremonial; his stand is anything but."