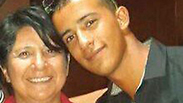 Blanca Hayib doesn't know who to thank. "I have no idea of the name of the soldier who operated on my son under fire," she says. "He cut him to release the blood pressure, and thanks to him my son was able to breathe. That soldier saved my son's life and I want to thank him."

This wasn't the first time one of Blanca's soldier sons was miraculously returned to her alive: Last week it was Abed Aljabar, a fighter in the Israel Defense Forces' Bedouin Reconnaissance Battalion who was seriously wounded by sniper fire on the Gaza border; and before that it was Zachariah, who lost his friends when their tank blew up. But that's not even the most interesting part of Blanca's incredible story.

Blanca, 57, was born into a Christian family in Chile, grew up in Austria, married a Muslim in Germany and immigrated with him to Israel. The two boys, like all her 10 children, were raised as Muslim Bedouin. Two of them married Jewish spouses. "My eldest son is married to a Jewish woman, and my eldest daughter is married to a Jewish man," she says. "For us, it's natural. Why not?"

At the age of four, Blanca and her mother left Chile for Germany, where her father, an opera singer, lived. She was 16 when the family moved to Austria. There, at language school, Blanca met her future husband - a Bedouin citizen of Israel who was studying German. "We fell in love," she says. "We got married and that's where our eldest daughter, Amira, was born. That same year, 1980, we immigrated to Israel."

Wasn't your decision to marry a Muslim a problem for you or your family?

"No, just like I didn't have a problem with my children marrying Jews. Religion didn't concern me, and as far as I'm concerned all religions are the same. They all believe in one God. I knew my husband was a Muslim but a secular man, not religious. When we moved to Israel, we lived with his parents until we built a house, and there were always good people around us, from his family, from the village. I feel there are good people around me everywhere in Israel, and wherever I go I thank God that I meet nice people – Jews, Arabs or Christians."

Because she is married to a Muslim, Blanca is registered at the Interior Ministry as one too, despite the fact that she has never converted and doesn't consider herself a Muslim. All her children, five boys and five girls, are registered as Muslims too.

In 2003, Blanca divorced her husband and went back to her family in Chile for a few years. "Two of my daughters were with me in Chile," she recounts. "One of them returned to Israel, the other got married there and gave birth to my grandson, who is six today. I see him on Skype and videos. Thank God for this technology, otherwise I wouldn't have been able to see the children I left here in Israel when I was in Chile. My youngest daughter was just four years old at the time. It was very hard, but I had to go."

Blanca has 14 grandchildren today.
'He was supposed to live'
When her eldest son, Zachariah, served in the IDF, the family went through some rough times. "He loved the army, but when he saw one of his best friends killed right before his eyes, it was very painful for him," she recalls. "For three weeks he couldn't stop seeing that image, of the friend dying right in front of his eyes, and it broke it. He decided to leave the army and spent two months in jail. During that time, he heard on the news that the tank of his friends had blown up. If he had stayed with them, he'd be dead. It really shook him up. I think it was from God; he was supposed to stay alive and not die."

And then, last March, Abed Aljabar decided to enlist too. "I was in a constant state of anxiety during Operation Protective Edge," Blanca says. "He didn't tell me where he was; and whenever we would meet and embrace, I'd think it may be for the last time, our last hug. I may never see him again. It's so hard."

Your son in fact is a Muslim Bedouin who is serving with Jews in the Israeli army.

"True, but when he serves in the army, he's not a Jew, Muslim or Christian. He fights for the country. He was born here, he feels like he belongs here. It's not a question of religion. In Chile, too, there are Jews, Muslims and Christians; had he grown up in Chile and enlisted in the army there, he would be fighting for Chile, not for any particular religion. He's simply a citizen of the country. We are Israelis, and most of the men in our village go to the army."

A Muslim serving in the IDF isn't something that is taken for granted in Israel.

"That's the biggest problem in the country, the fact that religion takes center stage. We are one country, and everyone should be united. There's no need for barriers and boundaries between us. What difference does it make if someone's a Muslim, a Jew or a Christian?"

You grew up in Austria. Would you like to raise your children there?

"Not at all. My life is here in Israel. This is a country that cares about children; there's a concern here for family. In Austria, you can be thrown out into the streets with your children and no one will care about you. They're cold inside. I feel good in Israel. I spent seven years in Chile and I didn't feel at home."

Last Wednesday, Blanca was with her mother, who's in Israel on a visit, when her eldest son called and said: "Mother, you have to come home quickly. Soldiers are here." Blanca rushed home to the news that Abed had been seriously wounded on the Gaza border. "I called a cab and we went to Soroka Hospital. I could hardly breathe until I saw him," she says.

The journey to the hospital was the longest three hours of her life. "I imagined the worst. They told me his life was in danger and a harsh picture awaited me at the hospital: My son was connected to a lot of tubes. He seemed to be suffering. But I saw that his mind was strong and it gave me strength."

Did he tell you what happened there?

"Yes. He was providing security for workers some 300 meters from the fence, together with his commander and another soldier. At some point, he felt hot and asked his commander if he could remove his flak jacket so he could take off his jacket. 'I stood up, I hadn't even managed to get my flak jacket off, I had just opened it a little, and a bullet hit me,' he told me.

"He felt himself fly back and fall, and didn't know what had happened to him; it all happened so fast. He told me: 'I shouted, and the soldiers who were with me couldn't understand why I was on the ground. I told them I've been hit by a bullet. They saw the blood and radioed through a report that a soldier has been wounded. The medic, who is also a friend of mine, began to treat me and took off all my clothes; meanwhile the other soldiers opened fire in the direction of Gaza.'

"His commander pressed his hand on the wound and stopped the blood. The doctor who treated him said he needs to operate on him, that it will be tough and painful but that he has no choice. And he replied: 'Do what you have to do; I don't want to die.'

"He told me: 'I remained awake all the time; I refused to close my eyes even for a moment because I was afraid to die. I kept thinking only about you, mother. While they were treating me, I took out my phone and started dialing your number. I wanted to say sorry for not listening to you, for not taking care of myself, but they took the phone away from me."

When Blanca recalls the words of her son, her eyes fill with tears. "Before he was drafted, I spoke to him a lot. When he said he wanted to join the army I said: 'The army is hard. Remember what happened to your brother, Zachariah. He witnessed very harsh things in the army."

And he wasn't deterred?

"No, he insisted on enlisting. He wanted to do something meaningful, to contribute to the country and to make a career for himself in the army. That's his dream. I don't know now if his dream will come true; I just hope he recovers and is strong."

Abed hears his mother and says to her: "I want to go back to fight with my friends already. I was supposed to start a squad commanders' course today. I want to progress in the army; it's a great honor for me to serve in the army."

Abed was transferred to Rambam Medical Center in Haifa over the weekend and his condition is now defined as light to moderate. I bump into Blanca on the ground floor of the hospital, where she's lying on a Magen David Adom stretcher and donating blood while her son recovers in the Thoracic Surgery Ward on the ninth floor. "I'm next to his bed from morning to night," she says. "And sometimes when he's asleep, I see him jump up in horror. He is in pain and receiving medication. They took the last tube today and it was extremely painful for him."

After recovering from the blood donation, she returns to her son's room. She hugs him and kisses him on the forehead, and he smiles at her with love. "I want to say a big thank you to everyone who has treated my son – in the field, at Soroka and at Rambam," she says. "I'm sorry that something like this had to happen to him. When will we have peace? I so hope that peace will come one day soon. We are all people. We are all human. We need peace."