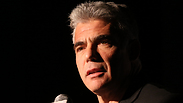 Ex-finance minister Yair Lapid
Photo: Motti Kimchi
Yesh Atid Chairman Yair Lapid slammed his former coalition partners – particularly Prime Minister Benjamin Netanyahu at the faction's first conference ahead of the snap elections in March.
The sacked finance minister subtly lashed out at Foreign Minister Avigdor Lieberman's party, which is under investigation in a massive corruption probe. "Enough of the corrupt politicians, we are sick of them stealing our country. Give us back our country!"
Lapid reiterated his statements and promises of a "new politics" – made ahead of the previous elections in 2013 – and claimed that in the two years his faction was in the coalition "we were the only ones fighting against it. Two years we held back the tide. What we fought against was not the 'old politics' but a politics of corruption."
The Yesh Atid chief said the remaining players in the coalition used its break-up to further their efforts. "From the moment I left the government, it took the prime minister, defense minister, and housing minister exactly a minute to do everything we stopped before – they transferred 300 million shekels to roads in the Tapuach and Yitzhar areas, because we were no longer there to safeguard the treasury."
Lapid further added: "The corruption is not only in relation to the charges against (Yisrael Beiteinu deputy minister) Faina Kirshenbaum and Likud and Yisrael Beiteinu heads of local authorities. The corruption is in a violation of the most basic contract between the state and the citizen."
Lapid launched a personal attack against Netanyahu, saying: "Corruption is when a politician uses public funds to deliver pistachio ice cream to his home and transfer garden furniture to his Caesarea villa, then requesting that the expenses be covered for the water in his pool and fights to get a private jet. Yesh Atid was the only party to vote against that notion. You should have seen how the prime minister reacted when he discovered that we were against him having his own private jet. Mr. prime minister, in a country that has the widest social gaps in the Western world, a private jet is a sign of corruption."
Lapid's comments on Thursday were part of a broader ongoing conflict between him and Netanyahu. Last week, the Yesh Atid chairman harshly criticized the prime minister's conduct during Operation Protective Edge, saying that he did not have the courage to lead to the demilitarization of the Gaza Strip. The former finance minister termed such conduct "diplomatic cowardice".
Gilad Morag contributed to this report.