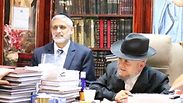 "Why did the terrible Holocaust nearly pass over the Sephardim? It is the fruit of the holy Torah's education," said Rabbi Meir Mazuz, the spiritual leader of the HaAm Itanu party. Eli Yishai's "teacher" is considered one of the most senior rabbis among Sephardic ultra-Orthodox, but he is less well-known to the wider public. His religious rulings therefore allow a glimpse into his attitude towards the state's law, his controversial opinions, and his positions that are deeply rooted in the right-wing.

The book "Makor Ne'eman" (2010), published by his students, includes short and succinct halacha answers Rabbi Mazuz wrote to those who turned to him with different matters. Question number 958 was: "Some believe Ashkenazi education is better than Sephardic education. Is there truth to that belief?"

Rabbi Mazuz responded with a question of his own to "all who think Sephardic education is less important", asking: "Why, for two thousand years of exile, and even here in the land of Israel in recent years, has there been not a single anti-religious Torah-hating Sephardic, as there was among others? Why are most of them like all traditional and religious Sephardim, and have not been struck with the plague of leprosy called 'the Enlightenment'? Why did the terrible Holocaust nearly pass over the Sephardim?" His answer: "This is the fruit of the holy Torah's education, whose 'ways are ways of pleasantness, and all her paths are peace'!"

On the subject of resisting an order to evacuate settlements, the rabbi again invoked the Holocaust to express a hardline right-wing position. In question 929 he was asked: "Is a soldier permitted to refuse an order when he is required to evacuate settlements in the land of Israel?" The answer: "Remember when Eichman claimed he was only a 'small cog in the wheel'?"

Regarding tax evasion, the rabbi said it was forbidden because the halacha recognizes the state's laws as religiously binding as well ("Dina D'Malkhutah Dina" – "the law of the land is the law"), but added that "a yeshiva student whose Torah study is his artistry and who lives in subsistence should be judged less harshly."

He explains this as such: "In the essence of precept, a Torah scholar is exempt from taxation, and this was customary in ancient times, under Gentile rule as well – to exempt a Torah scholar from paying taxes. Even more so since these days the yeshiva students lose out on special benefits of stipends given to released soldiers – including mortgage benefits and others – and this is how the genius Rabbi Ovadia Yosef ruled."