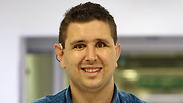 Eyal Neufeld overcame the challenges of being blind and rebuilt his life after terror attack.
Photo: Dana Kopel
Twelve years ago, Eyal Neufeld woke up in a hospital with no sight or sense of hearing after being seriously wounded in a terror attack on a bus near the northern Israeli city of Safed. This past week, Neufeld celebrated the birth of his first daughter Noam – "This is the happiest day of my life," said Neufeld.

Neufeld spent months in the hospital after suffering serious wounds in a 2002 Hamas terror attack which resulted in the deaths of nine Israelis. He was unable to communicate or understand where he was or what was going on around him.

Despite the serious wounds he sustained and the trauma he endured, Neufeld never gave up. He underwent rehabilitation, got married and rebuilt his life. This past week he experienced one of the greatest joys yet when he became a father.

On Monday, Neufeld's wife Iris gave birth to the couple's first child – a daughter named Noam.

"When I lay hospitalized, I never thought I would get where I have gotten," says Neufeld. "Who would have thought then about raising a family? It was a dream, and now I'm realizing that dream. Now it's a reality. The December 29 is one of the happiest days of my life, maybe the happiest. I can hear and feel the baby. There are no words to express my feelings."

Neufeld is originally a resident of Carmiel and was wounded in a terror attack on the 361 Har Meron bus line in northern Israel. Nine people were killed in the attack and 10 people sustained serious wounds.

"I sat very close to the terrorist. When I stood up to get off the bus, two soldiers stood between me and the terrorist and as soon as the door opened he yelled something, I looked back and I saw him hug one of the soldiers and blow up along with him," Neufeld recalls.

Neufeld was hospitalized at Rambam hospital and left unconscious. He lost his vision and his hearing as well as suffered several broken bones throughout his body. When he regained consciousness, it was impossible to communicate with him.

Neufeld believed he had been kidnapped by the terrorists, and would be overcome with fear anytime someone would come close to him. Only after the hospital staff gave him letters made out of plastic did he understand that they were trying to communicate with him and he began to cooperate.

Later on, Neufeld underwent rehabilitation at the Sheba Medical Center and was only released six months after the terror attack took place.

Slowly but steadily Neufeld rebuilt his life. Thanks to an implant he was able to regain his hearing, married Iris, and studied political science at university, and about a year and a half ago he began working at the Israeli Electricity Market Regulatory Authority. Neufeld got the job with the help of the director of the Israel Electric Corporation Yiftah Ron-Tal, who accompanied Neufeld during his recovery. Ron-Tal, along with the help of Oren Helman the vice president of the Regularity Authority, created the Equal Chance Association that helps the disabled to enter the workforce.

"For people with disabilities, it is very hard to live and in our country there are barriers that make it even more difficult for them," says Neufeld. "When this kind of person arrives to look for a job, they look at his handicap instead of at him."

Neufeld says that everything does derive inspiration from one thing – to be a good dad to Noam. "I'm happy that I work and can give her everything, all the necessary needs in life. Not just materialistic things but also a work ethic, and not giving her the feeling that we are different because her father cannot see. There is no reason not to continue on with life. The limitation does not make the man but rather the opposite, and if I cry all day – I will never get far."