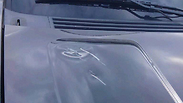 Damage caused to the American vehicle
Photo: Zechariya Sadeh
A confrontation broke out between security personnel from the American consulate and settlers from the Adei Ad outpost in the West Bank on Friday, after settlers hurled stones at two vehicles from the consulate. According to both Palestinian and settler sources, the American security guards drew their weapons at the settlers.
A preliminary police investigation of the clashes between American security personnel and Israeli settlers discovered the consulate employees had arrived at the Adei Ad outpost in Samaria without coordination with the appropriate defense officials.
An official from the village of Turmus Ayya, near the scene of the incident, said they invited the US delegation to examine thousands of olive tree seedlings which were uprooted on Thursday night – some belonging to Palestinians from the village who hold American citizenship. According to police, the settlers pelted the convoy with rocks, but neither side used their firearms.
A village official told Ynet that the American delegation, composed of employees from the Jerusalem consulate, arrived to the location after the property-owners asked them to examine the incident with their own eyes. The consul-general was not part of the delegation.
According to the Palestinians, an American vehicle with guards arrived at the agricultural lands to examine the scene and rule out any security risks, while the delegation members waited behind in the village. The settlers claimed the Americans arrived to the area without coordination and brought Palestinians into their territory, saying the American visit was coordinated with the Israeli Civil Administration for next week.
Sources familiar with the settlers said two American consulate vehicles pulled up on the southern side of the outpost. Following a report that was shared by the residents, armed men were deployed from the outpost, just as the US representatives were leaving the area.
Meanwhile, a clash between residents and the Americans developed, during which the Americans unholstered an M16 and a sidearm. The American delegation's visit was cancelled after the incident.
The US has not responded to the incident.
Itay Blumenthal and Roi Yanovsky contributed to this report.