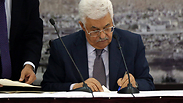 Abbas signing treaties in Ramallah
Photo: EPA
The Palestinians submitted documents to the United Nations to join the International Criminal Court on Friday, a high-stakes move that will soon enable them to pursue war-crimes charges against Israel.

The Palestinians are moving to join the court after suffering a defeat in the UN Security Council, which rejected a resolution that would have set a three-year deadline for the withdrawal of Israeli forces from territories the Palestinians want for their future state.

Israel has threatened retaliation if the Palestinians join the court, and the United States has also vehemently opposed the move as an obstacle to hopes of reaching an Israeli-Palestinians peace deal.

The Palestinian ambassador to the United Nations, Riyad Mansour, delivered the documents – known as instruments of ratification – to Assistant Secretary-General for Legal Affairs Stephen Mathias on Friday morning.

The International Criminal Court has recognized the UN General Assembly's recognition of Palestine as an observer state. Handing over the paperwork is the last formal step for Palestine to become a member of the ICC, which would take at least 60 days.

Palestinian President Mahmoud, under heavy pressure to take stronger action against Israel after a bloody 50-day war in Gaza over the summer, signed the documents after the Security Council rejected the resolution.

At the international court, the Palestinians could seek to have Israeli military or political figures prosecuted for alleged crimes involving settlement construction or actions by the military that cause heavy civilian casualties, for instance.