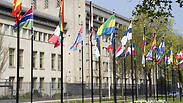 The Hague
Photo: Shutterstock
The US State Department said on Friday that the Palestinian application to join the International Criminal Court will have "implications" for US aid to the Palestinian Authority.

"It should come as no surprise that there will be implications for this step, but we continue to review," the official told Reuters.

"US assistance to the Palestinian Authority has played a valuable role in promoting stability and prosperity not just for the Palestinians, but also for Israel as well," the official added.

Washington sends about $400 million in economic support aid to the Palestinians every year. Under US law, that aid would be cut off if the Palestinians used membership in the International Criminal Court to make claims against Israel.

While President Barack Obama supports an eventual independent Palestinian state neighboring Israel, US officials have argued against unilateral moves like Friday's, warning they could set back the peace process.

"We are deeply troubled by Palestinian action regarding the ICC," a senior State Department official said.

In a move that heightened tensions with Israel, the Palestinians on Friday delivered to UN headquarters documents on joining the Rome Statute of the International Criminal Court and other international treaties.

The chief Palestinian observer at the United Nations, Riyad Mansour, and UN spokesman Farhan Haq confirmed handover of the diplomatic documents at the world body's headquarters.

"This is a very significant step," Mansour said. "It is an option that we are seeking in order to seek justice for all the victims that have been killed by Israel, the occupying power."

The UN press office issued a statement saying the Palestinians had delivered documentation to join 16 international treaties. "The documents are being reviewed with a view to determining the appropriate next steps," it said.

The Hague-based court looks at cases of severe war crimes and crimes against humanity, such as genocide.

According to the Rome Statute, the Palestinians will become a party to the court on the first day of the month that follows a 60-day waiting period after depositing signed and ratified documents of accession with the United Nations in New York.

The ICC move paves the way for the court to take jurisdiction over alleged crimes committed in Palestinian lands and investigate the conduct of both Israeli and Palestinian leaders over more than a decade of bloody conflict. Neither Israel nor the United States belongs to the ICC.

Mansour said the Palestinians have also formally requested retroactive ICC jurisdiction "with regard to the crimes committed during the last war in Gaza." He was referring to Israel's 50-day war against Hamas militants in the Gaza Strip this past summer.

Regarding the threat of possible US sanctions for joining the ICC, Mansour said: "It is really puzzling when you seek justice through a legal approach to be punished for doing so."