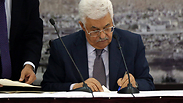 Palestinian President Abbas signs ICC request
Photo: EPA
Senior Palestinian official Saeb Erekat slammed Israel for its decision to withhold the transfer of some $125 million in tax funds to the Palestinian Authority in response to their decision to join the International Crime Court in The Hague, telling local media it was a "war crime."

Erekat lashed out Israel, calling the move an act of "piracy" and a "collective punishment" against the Palestinian people.

"If Israel thinks that through economic pressure it will succeed in diverting our approach from freedom and independence, then it is wrong," Erekat said.

"This money is not Israeli charity to the Palestinian people… This is the money of the Palestinian people and Israel is not a donor country."

Israel has stopped tax transfers before but such freezes have been short-lived.
Livni and Herzog: Netanyahu weak
Leaders of the center-left 'Zionist Camp' bloc slammed Netanyahu for his decision, saying "Netanyahu has no real solution to Israel's deteriorating situation on the world stage. Whoever is weak in the face of (Palestinian President Abbas) and fails to act to take steps that will protect IDF soldiers in The Hague cannot really stop this trend," Isaac Herzog and Tzipi Livni said in a statement.

The two, who are running on a joint ticket and would rotate as prime minister should they form the next government, said that under their leadership, "Israel would take diplomatic steps to enlist the world to Israel's side, providing a diplomatic and legal bulletproof vest for IDF soldiers and officers."

The two reminded that when Israel was negotiating a ceasefire to end the 50 day summer war, "Netanyahu missed an opportunity to demilitarize Gaza by choosing to negotiate with Hamas (instead of Abbas)."

Withholding the funds is just one of several actions Israel could take against the Palestinians, including expanding West Bank settlement construction and curbing certain privileges.

Channel 2 news reported on Saturday night that Netanyahu would convene his Cabinet in the coming days to discuss further retaliatory steps. The US government has not said how it will react, but it provides hundreds of millions of dollars in aid to the Palestinians.

Turning to the international court at the Hague marks a major policy shift, transforming Abbas' relations with Israel from tense to openly hostile.

Abbas has been under heavy domestic pressure to take stronger action against Israel amid months of rising tensions over the collapse of US-brokered peace talks last spring, a 50-day war between Israel and Palestinian militants in Gaza over the summer, a recent spate of deadly Palestinian attacks on Israelis, and unrest over access to a key holy site in Jerusalem.

The Associated Press and Moran Azulay contributed to this report