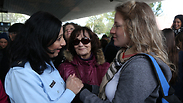 Policewoman Ziona Bushri with Shani Winter at the IDF induction center
Photo: Shaul Golan
When Shani Winter arrived at the IDF's induction center on Sunday to enlist in the army, she was accompanied by her family and close friends who came to say goodbye. But one woman could not be there: Her mother.

Shani lost her mother, Anat Winter-Rosen, at the age of six months in a terrorist bombing at Café Apropo in Tel Aviv 18 years ago.

On March 21, 1997, on the eve of Purim, Anat and her baby daughter Shani arrived at Café Apropo to meet with Anat's good friend Yael Gilad.

At 1:40pm, a suicide bomber entered the cafe and set off his bomb. Anat and Yael were instantly killed, along with Dr. Michal Avrahami, while 48 others were wounded.

Baby Shani, who was in her stroller, was saved. "Mom simply covered me with her body. It was more important to her to protect me than herself," Shani told Yedioth Ahronoth in an interview published two weeks ago.

Shani was only lightly wounded. Shrapnel from the bomb left two small scars in her leg and hand.

The first to notice her after the explosion was a man who came out of a nearby store. He got the baby out of the wreckage of the cafe and entrusted her to traffic policewoman Ziona Bushri who arrived at the scene.

The photo of the young policewoman carrying the baby dressed as a clown moved the entire country when it appeared on the cover of Yedioth Ahronoth.

Almost 18 years have passed. "I'm the baby from the Café Apropo bombing, and I'll carry that for the rest of my life," said Shani, who was raised by her father Micky. "I'm jealous of my friends who have mothers. I don't know what it's like to have a mother. On the other hand, I find comfort in the fact my mother saved me. That I was a part of her, and she protected me."

Shani arrived at the Tel HaShomer IDF induction center on Sunday morning, where her mother's absence was acutely felt as all around her other mothers were saying goodbye to their daughters who were also joining the army.

"I'm very excited about this new journey and the interesting and challenging role I'll have in my army service," Shani said.

Zehava Rosen, Shani's grandmother, also came to see her granddaughter off. "After the hard years we've been through, we'll all come to wish her luck with a big hug."

Since the attack, Shani and her grandmother have been keeping in touch with policewoman Ziona Bushri. "It was very important to me to locate Ziona after the attack, and I've since adopted her as part of the family," Zehava said.

In 1997, Staff Sergeant Ziona Bushri was a traffic policewoman in the Tel Aviv Police Department. Today, she's a senior staff sergeant major and serves in the Tel Aviv District's Prosecution Division. Ziona, 46, is a mother of two girls and a boy, and lives in Yavne with her family.

Ziona and Zehava talk on the phone on a regular basis, sometimes even several times a day. Ziona has been there for Shani throughout her life, calling her on her birthday every year, and attending memorials for Shani's mother Anat.

Throughout the years, Ziona has been there to say a kind word, give advice, and support Shani. On Sunday, Ziona was there to accompany "her baby" to the induction center, along with Shani's father and family members.

"Memories of this awful bombing accompany me every day," Ziona said. "I will never forget the moment I picked Shani up and ran to search for her family. And here she is, the baby we all remember has grown up and is joining the IDF. I embrace her and cross my fingers that she succeeds."