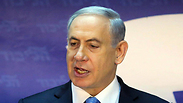 Prime Minister Benjamin Netanyahu
Photo: EPA
Netanyahu: We won't let soldiers be dragged to ICC
The Palestinian Authority has chosen to take a path of confrontation with Israel, and we won't sit idly by,' PM warns, while Palestinian negotiator Erekat tells Ynet: 'We are an authority without authority. Israeli gov't left us with no option but to make unilateral steps.
Israel will not permit its soldiers to be hauled in front of the International Criminal Court on potential war crimes charges, Prime Minister Benjamin Netanyahu said Sunday.

"We will not let (IDF) soldiers and officers be dragged to the International Criminal Court in The Hague," Netanyahu said at the start of the weekly cabinet meeting, two days after the Palestinians filed an application to become a party to the court.

His remarks were made after Israel froze the transfer of NIS 400 million ($127 million) in tax revenues to the Palestinian Authority in the first of what officials said would be a series of punitive steps following the Palestinian move.

"If the Palestinian Authority doesn't take a step back, I think we have to take much more severe steps," said Strategic Affairs Minister Yuval Steinitz, a close associate of Netanyahu, referring to a "gradual dissolution" of the PA.

"We should not aid the existence of this authority."

Israel often freezes the transfer of funds as a punitive measure in response to Palestinian diplomatic or political developments it views as harmful.

"The Palestinian Authority has chosen to take a path of confrontation with Israel, and we will not sit idly by," Netanyahu warned.

The ICC can prosecute individuals accused of genocide, crimes against humanity and war crimes committed since July 1, 2002, when the court's founding treaty, the Rome Statute, came into force.

"(IDF) soldiers will continue to defend Israel with determination and strength – and as they defend us, we will defend them, with the same determination and the same strength," Netanyahu said.

He said the Palestinian leadership should be put on trial before the ICC for signing a 2014 reconciliation agreement with the Islamist Hamas movement which led to the establishment of a national consensus government.

"Those who should face justice are the heads of the Palestinian Authority who signed a covenant with the war criminals of Hamas," he said.

Israel may also file countersuits against top Palestinian officials, a source close to the government said on Friday.

Israeli legal officials said that while the Palestinian decision to join the ICC could be "a nuisance for Israel, it would not yield any practical legal results".

And a high-ranking legal official said Israel was ready to counter with its own lawsuits against senior Palestinian officials immediately.

The basis of the complaints would be that Palestinian president Mahmoud Abbas's partnership in a consensus government with Hamas makes him complicit in the militant Islamist group's attacks from Gaza on civilians in Israel.

"These lawsuits, which are backed up with evidence, documents and affidavits, can be filed as early as tomorrow morning," a high-ranking legal official said.

But, in an unusual development, Israel was not planning to announce any new settlement construction in the settlements, a senior foreign ministry official said on Sunday.

Every month, in line with an agreement signed between the two sides in 1994, Israel transfers to the Palestinian Authority tens of millions of dollars in customs duties levied on goods destined for Palestinian markets that transit through Israeli ports.

The tax revenues make up around two-thirds of the Palestinian Authority's annual budget, excluding foreign aid.
'An authority without authority'
Palestinian official Saeb Erekat, the PA's negotiator in peace talks with Israel, expressed outrage on Sunday at the Israeli decision to freeze funds to the Palestinians.
"Israel freezing our money is a collective punishment covering 4.5 million people... people will not be able to take their salaries, they will not be able to take food home," Erekat told Ynet. "And by the way - this is our money! Israel charges 3 percent in collecting this money for us. This is a collective punishment, piracy and a war crime."
Erekat speaking to Ynet (צלמים: חגי דקל ניצן דרור)
Erekat said that "when you hold (NIS 400) million, which is 70 percent of total Palestinian income, that means that you are putting your hands on the throats of Palestinian children, and women and men."
He said the Palestinian leadership will meet in coming days to plan their response to the Israeli move, threatening to "call upon Mr. Netanyahu to come and resume his responsibilities fully on the occupied Palestinian territories in the West Bank and Gaza."
Erekat had a lot of grievances with Netanyahu and his government, saying the prime minister was "destroying" the Palestinian Authority.
"What authority did he leave? The Israeli people don't see us anymore, that's the problem. Do you know that we don't have Area A, Area B, Area C? Do you know that the Israeli government cancelled our legal jurisdiction, economy jurisdiction, political jurisdiction, security jurisdiction?
"We are an authority by name. We're not going to dissolve ourselves. Actually, Mr. Netanyahu managed to destroy the authority. So if that's what he was planning to do since he came to office, to destroy the Palestinian Authority and to resume his occupying power - he won."
Turning to the UN Security Council and joining the International Criminal Court, Erekat said, were peaceful moves that the Palestinians chose to take rather than take the violent path.
"Your government has left us with no other option (but taken unilateral steps), they are the masters of unilateral steps. What do you call settlement activity, home demolition, land confiscation, an authority without an authority?"
Next, Erekat said, the Palestinians plan to "expedite our work with the ICC, cause that's the only option available for us now. And we can work with the International Federation of Lawyers and we're going to see what can be done to protect the daily life of Palestinians."