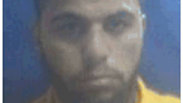 Ahmad Shehadeh
Courtesy of Shin Bet
The Shin Bet and IDF arrested a terror cell in November of last year, which identifies ideologically and religiously with the Islamic State and whose members planned different types of terror attacks against Israeli civilians and soldiers, it was cleared for publication on Sunday.

The members of the Hebron-based global jihad cell, the first known Palestinian cell linked to the Syria- and Iraq-based insurgent group, are: Ahmad Shehadeh, 22, Muhammad Zaru, 21, Qusai Masawdeh, 23.

While the Shin Bet described the three as "identifying with" Islamic State, it made no mention of them having left the West Bank to meet with members of the insurgent group.

A Shin Bet official said this was the first case Israel knew of in which Palestinians planned attacks in the name of Islamic State, whose bases in Syria and Iraq have drawn dozens of foreign volunteers, including Palestinians and Israeli Arabs.

In his interrogation, Ahmad Shehadeh confessed to planning to establish an armed Islamic state cell with the other two in order to commit terror attacks.

He also said that he and Qusai Masawdeh produced several explosive devices, one of which they threw unsuccessfully at an IDF force.

Shehadeh and Masawdeh also planned to murder an IDF soldier and use his weapon and uniforms to commit a shooting attack agaisnt Israelis. The two left to commit the attack, but returned without having committed it.

Both Zaru and Masawdeh admitted to the allegations attributed to them, while Masawdeh also confessed to planning to kill a settler in Hebron and take his weapon.

Zaru was indicted at the Judea military court on charges of membership and activity in a forbidden organization, among other things. The other two will be indicted at the Judea military court in the coming days.

Elior Levy and Reuters contributed to this report.