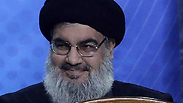 Hassan Nasrallah
Photo: AFP
A top official from the terror group Hezbollah claims that despite deep internal divisions between Shiite and Sunni Muslims, thousands of Sunnis will join the radical Shiite terror group in its next fight against Israel, Lebanon's Daily Star reported.

Lebanon is a country deeply divided along sectarian lines, and the civil war in Syria has only further strained those divides, especially as Hezbollah finds itself increasingly involved in fighting alongside pro-regime forces in Syria, and dragging its small Lebanon homeland into the conflict.



"Hezbollah's response to Israel's bet on Sunni-Shiite strife is this: The resistance is preparing for the next war with Israel, and thousands of our Sunni brothers in Lebanon will be among the ranks (of the) resistance," Hezbollah's Executive Council chief Sheikh Nabil Qaouk was quoted by the Daily Star as saying during a Hezbollah ceremony in Sidon.

Qaouk claimed in the report that Israel is supporting rebel groups and exploiting the Syrian conflict to weaken "the resistance" – a term used to describe an armed struggle against Israel.

Using the term 'takfiris' – or infidels – Qaouk said that jihadist are playing into Israel's "project" and thus pose a threat to both sects of Islam: "Takfiris are not in a place of representing Sunnis, but instead they are in a place of animosity against Sunnis and Shiites alike," he was quoted as saying.

He further warned of the Islamic State group, saying they might use terror to target Lebanon with the hopes of extending their "emirate."
'Israeli spy'
In a different report from the same website, Hezbollah's deputy chief implied that report of an arrest of a senior party official over espionage for Israel was in fact true.
"There is no party in the world as big and sophisticated as Hezbollah that was able to stand with the same steadfastness despite some major infiltrations," Naim Qassem told a Hezbollah-lined radio station.
"Hezbollah has worked intensely on battling espionage among its ranks. Some cases surfaced, and they are very limited cases," he said, without explicitly naming the suspected spy.