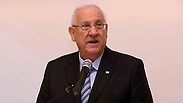 President Rivlin
Photo: Oz Mualem
President Reuven Rivlin harshly criticized on Monday the government's decision to freeze the transfer of tax money Israel collects for the Palestinians, saying in a meeting closed to the press that the decision is damaging Israeli interests.

"(Palestinian Authority President) Abbas is trying to reach a forced arrangement and his requests (to the Security Council and ICC) are a breach of the Oslo Accords, which supposedly justifies punitive action. But the punitive actions should suit Israel's interests. Delaying the transfer of tax money, for example, does not benefit us, or them," Rivlin said at a meeting with current and future Israeli ambassadors to Europe.

"The taxes are a part of the Palestinian peoples' ability to sustain themselves and the Israeli interest is for the Palestinian people to sustain themselves. I was a lawyer until the age of 48. I'd never file a compensation suit if it was damaging to me," Rivlin added.

Over the weekend, Israel has announced it was freezing the transfer of half a billion shekels (about $125 million) from tax funds collected on behalf of the PA by Israel and distributed every month, in response to the Palestinians' request to join the International Criminal Court. The frozen funds were scheduled to go through this month, but the decision was made Thursday during a discussion convened by Prime Minister Benjamin Netanyahu.

Rivlin slammed Abbas for avoiding direct negotiations with Israel. "He's doing it for the simple reason that he knows that even if he reaches an agreement with us, he'll have a hard time getting his people's approval. We can make a decision like we did with the Oslo Accord and the minority will always bow its head to democratic decisions. Abbas knows it doesn't matter what agreement he brings to his people, he won't be able to get the Palestinian street's approval," he said.

On the Israeli-Palestinian conflict, Rivlin said that "we need to learn to live together, peace will come when we establish trust and understand we are not doomed to live together, rather we are meant to live together. Later we could talk about all of the possibilities: Open borders, confederation, two states, a bi-national state etc."