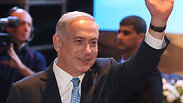 השקת השקה קמפיין מפלגה ליכוד בחירות 2015 גני תערוכה ת"א רה"מ בנימין נתניהו
Photo: Motti Kimchi
The Likud launched its 2015 election campaign on Monday at an event held in the Tel Aviv Convention Center, days after a controversial vote count during its primary.

Likud leader, Prime Minister Benjamin Netanyahu, gave a speech in which he announced his intention to present the Knesset with a bill within 100 days after elections, which would circumvent the president's authority by establishing that the chair of the largest party would automatically have the right to form a government. Under the current system of governance, after elections, party leaders recommend a candidate for prime minister to the president, who then asks that candidate to form a government.

According to Netanyahu, the bill would ensure that the government and prime minister could stably govern for four years and make it nearly impossible to bring down a government in the middle of its term.

Netanyahu began his speech by telling his audience the party had chosen "a great team". "This is a ruling party's list, one large Likud against all of the left," he said.

Netanyahu attacked Isaac Herzog and Tzipi Livni, the leaders of the joint Labor-Hatnua list. "Will they protect citizens' security and stand up against Hamas, Hezbollah, and Iran?" he asked with a chuckle. "They won't stand up to that pressure for even a moment. They and the left just want to go out and give up, because that's been the way of the left for 20 years."

Netanyahu continued his assault on his opponents from Labor and Hatnua, claiming they enthusiastically believed that the disengagement from Gaza, which he supported, would bring peace.

The Labor-Hatnua campaign said in response: "We once again heard Netanyahu, who was weak facing Hamas and negotiated with them, using the same overused slogans that led Israel to increasing diplomatic isolation.

"Changing the system of governance is a pathetic answer to the problems of the citizens of Israel. Israel's problem is not governance, but the one governing.

"Herzog and Livni will lead Israel on another path, maintain security, and work together to provide solutions for Israeli citizens' burdensome social problems. After we have all watched Netanyahu's speech, Israel's citizens can be grateful that there are only 70 days left under his failed rule."

Former finance minister Yair Lapid was also in the crosshairs during Netanyahu's speech. "We began the process of moving IDF bases to the Negev, but someone stopped the funds. That someone was the finance minister who stood behind what I can only call an 'atmosphere party' and opposed transferring the funds. Now I'm finance minister, and the first decision I made was transferring the money."

Also on Monday, MK Moshe Feiglin, who was left out in the cold in Likud's primary, announced his departure from Likud and formation of a new party. "Benjamin Netanyahu thwarted me, but I'm not angry at him," Feiglin said.