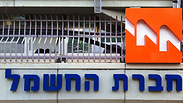 The Israel Electric Corporation CEO Eli Glickman warned Israel's security chiefs in a letter sent Sunday that the company would have to limit electricity to territories controlled by the Palestinian Authority and the Jerusalem District Energy Company (JEDCO) – which buys electricity from Israel and sells it to various cities in the West Bank – because of a debt totalling NIS 1,700,843,315.

The letter was addressed to National Security Advisor Yossi Cohen, Shin Bet Chief Yoram Cohen, Coordinator of Government Activities in the Territories Maj.-Gen. Yoav Mordechai, Head of the Operations Directorate of the IDF Maj.-Gen. Yoav Har-Even, and Police Commissioner Maj.-Gen. Yohanan Danino.

Glickman requested that they raise alertness in the forces they led, on both an operational and intelligence level, out of concern that limiting the power supply could lead to various responses by the Palestinian population.



According to the letter, "the debt imposes a heavy burden on the company's cash flow. In light of the aforementioned facts, the Electric Corporation, with me as its chief, worked and will work as much as it can to collect the debt under discussion in order to preserve its financial stability.

"We therefore have no other choice, and the Electric Corporation, as a supplier of an essential service that is committed to all its customers, is obligated to begin working in the coming days to collect with the following methods: 1. limiting the power supply; 2. not connecting new customers in areas the of the JDECO and the PA."

The letter noted that as of December 31, debt owed by the Palestinian Authority and the Jerusalem District Electricity Company amounted to more than NIS 1.7 billion, of which NIS 1,054,914,845 were from the JDECO, and NIS 645,928,470 from the PA.

The letter also stated that the electric company must act in accordance with the law that regulates government companies, which establishes that a government company should operate based on the same considerations as a non-government company, unless the government has decided otherwise.

"For this reason, as long as there is no other decision on the subject made by the government and approved by the committee, the company will act to collect the debt as described," wrote Glickman.