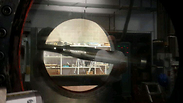 Every missile or aerial vehicle manufactured in Israel – from the Iron Dome interceptor to the IAI Heron UAV – passes through the same halls at Israel Aerospace Industries' facility near the Ben Gurion Airport.

For the first time since the wind tunnels were constructed back in the 1970s, Ynet was given an exclusive peek behind the curtain of the facility which prepares Israel's most advanced aircraft for combat-duty.

The wind tunnels located at the site host the initial trials of each and every flying creation designed by one of Israel's myriad defense contractors, simulating their first flight before the prototypes take to the skies above.

Hundreds of trials are undertaken each year inside the extensive facility, with the aim of testing the behavior and response in the air of aircraft still under development. A scaled model of the missile or UAV under testing is installed in the tunnel and faced with extreme winds of up to 15,000 kmh.

Ynet peeks into wind tunnel facility (צילום: יוגב אטיאס, אבי חי)

Each and every Israeli aerospace development has passed through these tunnels, the largest of which reaches 40 meters in length. The facility's manager, Shlomo Levi stressed the compound's importance. "This is essentially a unique national infrastructure project which provides for the needs of all the industries and includes three types of tunnels."

Levi explained the difference in the tunnels' use. "The first type is subsonic with speeds of up to 360 kmh, where we test UAVs and airplanes. The second type is supersonic and reaches Mach 5 (close to 6,000 kmh), which we use to test rocket launches and missiles, like the Arrow. The third, and largest, type is hypersonic, with wind speeds of between Mach 5 to Mach 12 (almost 15,000 kmh), and it is intended to test the Arrow 3, which operates at high speeds beyond the atmosphere."

The facility manager told Ynet each trial lasts between 10 to 20 seconds. "We take a miniaturized model of the design while maintaining its aerodynamic properties. In the supersonic tunnel we accelerate the air using massive pumps throughout the test, to determine how the vehicle would respond to breaking the sound barrier."

The primary parameters tested during these trials are the abilities of the aerial vehicle to deal with changing air pressures, specifically in the wing and tail sections. During the testing, engineers receive real-time data through cameras and diagnostic tools which feed into the neighboring control room.

In recent years, the tunnels have served the needs of the private sector, as well. Miniature models of skyscrapers and solar panels have been put through their paces in the tunnels.