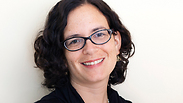 Jerusalem's Deputy Mayor Rachel Azaria on Tuesday joined Moshe Kahlon's Kulanu party.

Azaria was announced as a new member at a press conference, becoming the party's second woman after Monday's addition of Dr. Yifat Sasha-BIton of Kiryat Shmona, a former deputy mayor.

Azaria, leader of the Yerushalmim party, stood out for her activism during the social protests of 2011 and led the "stroller protest" decrying the cost of raising a child in Israel.

"Rachel is here for the same reason we're all here, for the same reason the Kulanu party was formed," said Kahlon. "The party espouses a struggle against monopolies, cartels, and lobbyists, and our goal is to give relief to citizens' lives economically and socially.

"Rachel is with us here because he realized, like all of us, that wherever you turn, you bump into monopolies and lobby groups.

"The upcoming elections are not between right and left, but between people who promise and people who follow through. Between those who do and those who promise to do. The upcoming elections are particularly important for young couples, who want to get their own apartment.

"The unbearable economic gaps endanger Israel. A nation that's weak internally will be weak externally, and therefore our role is to strengthen Israel from inside, and that's what we will do."

Azaria spoke of her reasons for joining the party. "Moshe knows how to create change, he has done much to help the citizens of Israel, and he knows how to improve their day-to-day lives," she said.

"I proved that I know how to work for the benefit of families, and I want to keep working for them: to reduce costs for nursery schools for ages 0-3, reduce the cost of afternoon daycare, match parents' vacation days to their children's, and ensure that every family can give children a dignified existence.

"If you are a mother of small children, and if you are a father of children in school, and you feel that your children deserve more, your place is with us. I promise to work every day and every hour for your children, because my four children are before my eyes."

As a member of Jerusalem's city council, Azaria spearheaded several initiatives involving education, some of which were adopted nation-wide.

Kahlon hopes to include four or five women in his Knesset's list top ten spots.

Azaria joined Sasha-Biton and Israel's former ambassador in Washington, Michael Oren, on the Kulanu list.

Roni Zinger contributed to this report.