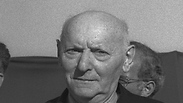 Isaac Bashevis Singer was 'always in a relationship with three different women'
Photo: Moshe Milner / GPO
"In my younger days I used to dream about a harem full of women; lately, I'm dreaming of a harem full of translators. If those translators could be women in addition, this would be paradise on earth," Nobel Prize laureate Isaac Bashevis Singer, one of the greatest Jewish writers of all time, noted in his autobiography.
Bashevis Singer's literary works are indeed filled with desires and passion, yet few know that his life itself was no less stormy. Now, a harem of women, sex, betrayals and affairs have all come to light in a new documentary, "The Muses of Isaac Bashevis Singer, which offers a less-familiar picture of the revered writer. His relationships with women, it turns out, were like an unfinished chapter in one of the Yiddish genius' stories.
Many years after emigrating from Warsaw to New York and establishing himself as one of the world's most important writers, Bashevis Singer, who only wrote in Yiddish, set up an army of translators, all young women, who helped make his works available to the non-Yiddish-speaking public; and many of these women were smitten (or burned – depends how you look at it) by the apparent-womanizer's charm.
The revelations in the documentary, filmmakers Shaul Betser and Asaf Galay stress, come from interviews with some of the translators.
"Contrary to the prevailing image of the Jew in exile, it turns out Bashevis Singer was a Don Juan who was always in a relationship with three different women at the same time – one was the mistress, one was for serious conversation, and of course there was his official wife too," Galay says.
"That thrill, that triangle, was very important to him. His nephew, a journalist who dreamed of becoming a writer, once asked him how he does it, and Singer replied: 'You can't be a writer until you have a lover on the sixth floor who can fire up your adrenaline and emotions. Only then will you cease to be a journalist and start becoming a writer.'"
"We love Bashevis Singer," Betser adds somewhat apologetically. "But the subject of the translators hadn't been sufficiently covered. The story of the translators can be explained, in general, by the fact that they met two of his two requirements – he used them as a sounding board, but he also needed their admiring looks for him."
Muses and madonnas
And indeed, in Isaac Bashevis Singer's harem, the translators were muses and madonnas. He listened to them like the psychologist they never had, and they fawned over him and offered him inspiration. He loved to hear their most intimate secrets and used them in his works and life. "He hurt some of them very much, forgot to give them credit for their translations, didn't invite them to the book launches – but they always forgave him," Galay says.
"Most of the translators were young, in their twenties, and the amazing thing is that none of them worked as translators professionally," Galay continues. Jody Biber, for example, was a hostess at a hotel Singer liked to stay at. She had no idea about translation from Yiddish and she only approached one day to ask for his autograph; and then Singer asked to meet with her and one thing led to another and she became his translator.
"Another translator, Hannah, approached him after a lecture and told him that she loves stories. He asked her to meet with him and turned her into his translator too. They were always second-generation Jewish Americans, and he also had a preference for black hair."
Singer's unresolved story with women began long before his move to the United States. In Warsaw in the mid-1920s, the young writer met a woman named Rochel Shapira, the daughter of a rabbi, who was an ardent communist, full of life, and the total opposite of Alma, his submissive future wife.
Although Singer and Shapira never married, the two had a relationship that three years later produced a son, Israel (journalist and author Israel Zamir, who passed away in November). Five years thereafter, however, Singer abandoned Rochel and his son and moved to the United States. Twenty years went by before Singer and Israel met again.
"When I was young girl, I didn't know I had a grandfather who was a writer," says Merav Chen, the daughter of Zamir and granddaughter of Bashevis Singer. "All I heard from my grandmother was very general talk about the fact that he left them and followed his brother to the United States, and that he promised to send money but never did. She was angry with him for years, yet she still admired his stories."
Rochel and the young Israel eventually found their way to Israel, via the former Soviet Union and then Turkey. "We went to the United States when I was four, because my father was an emissary for Hashomer Hatzair, and we lived nearby Bashevis Singer," Merav, the granddaughter recounts. "I remember a short-tempered man and the arguments he caused between my grandmother and my father. She would say he is a man without a heart, a self-centered man who never cared.
"My father had contacted him 10 years earlier, but it wasn't a warm relationship. In New York he really did spend more time with him. My grandmother never spoke to him again. The moment she found out he had married Alma, she shut the door."
Reputation for womanizing
Bashevis Singer certainly had a way with women, who didn't fall for his looks but for his sharp tongue instead. In the 1980s, he was chosen by the prestigious magazine, McCall's, as one of the 10 sexiest men in America. "There's an enormous energy damned up in him which is capable of sending a rocket to the moon," the magazine's editors wrote of their choice. "He describes such strong lust that the page catches fire as you read it."
For Singer, Betser and Galay both say, Alma, his wife, served as home and stability. "At some point, she's aware of all the mistresses and accepts it," Betser says. "Singer was very dependent on her. Alma divorced her husband and left her two children to be with him."
Playwright Leah Napolin, who turned Singer's short story, "Yentl," into a successful stage production, says that Singer treated Alma disgracefully and discounted her completely. "She was a very nice woman," Napolin recalls, "but the relationship was a problematic one between a very strong man and a subservient woman. He treated her like a servant. He had a name for being a womanizer."
Evelyn Torton Beck met Bashevis Singer in the United States in 1968. She was a PhD student at University of Wisconsin-Madison's Department of Comparative Literature, and the two hit it off when Singer went there as a guest lecturer.
"Singer invited me to his house to talk about a story by Kafka," Beck recalls. "I was a little afraid at first because he had a reputation and was known as a womanizer, but I was already married and I was self-assured and it was wonderful. He asked me if I would be his translator, and now, I don't know how to describe it to you, but it was as if he had asked me to marry him. I was so excited that I agreed without even thinking.
"We talked a lot. He used to come to my house because his office was small. At that time, my children were in school, my husband was at the university, and we would sit together in the study. He would sit in the special orange chair; and sometimes he stayed for dinner, and sometimes we went out to eat. There's a pretty square in Madison, Wisconsin, that overlooks the lake, and we'd watch the pigeons there together.
"Look, Bashevis loved to be loved, and he needed it in his life, too. There were stories that some of the women succumbed to his charms and had intimate relationships with him. He loved to listen to the stories of their lives and he drew his works from that. He always used to tell me stories about various women and students who come to him in the middle of the night and want to talk to him, like in some of his stories."
Hasidim, gentiles and brothels
Although he lived in the United States for more than 50 years, Isaac Bashevis Singer, who was born in 1904 or so, will always be remembered as the red-haired boy from the house at 10 Krochmalna Street in Warsaw. And no one captured the essence of life in the Jewish shtetls of Eastern Europe quite like him – with stories of Hasidim that also include gentiles and brothels.
"Singer was born into a traditional society that regarded women as impure," explains literary scholar Dr. Bilha Rubinstein, who has translated Singer's works into Hebrew. "He knew the three blessings: Blessed is God for not making me a gentile; blessed is God for not making me a slave; and blessed is God for not making me a woman. But because he admired his mother, the women he wanted around him were women who want to learn, women who stand up for themselves, or gentiles. He was fond of assertive woman because he was an assertive man."
Merav, the granddaughter says she doesn't think Singer was "a womanizer in the simple sense of the word."
According to Merav, "His behavior stemmed from the fact that he sought the image of his mother in every woman – the wise woman, the opinionated woman, with lofty ambitions, but at the same time also the woman who will manage him and look after him. I think I really realized I had a grandfather who was a famous writer when he won the Nobel Prize. I still remember my father's excitement and his trip to the ceremony.
"When I was 18, I went to visit friends in Mexico and I spent 10 days with him in Miami on the way back. His wife, Alma, came across as a woman who was willing to do everything for him – not in the sense of a weak woman, but in the sense of a woman who has decided that she's going to live with a great man and is willing to pay the price. She lived to provide and care for the special man that fell into her net."