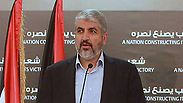 Hamas leader Khaled Mashaal has been reportedly kicked out of Qatar.
Photo: AFP
The Hamas militant group denied claims on Tuesday that its exiled leader, Khaled Mashal, has been expelled from his base in Qatar.

The Foreign Ministry issued a statement praising Qatar for kicking out Mashal. It said the decision came after heavy lobbying by Israel, which considers Hamas to be a terrorist group.

Izzat Rishq, a top aide to Mashal, said the claim, initially reported by CNN citing an unnamed Hamas news agency, was wrong.

Rishq said: "There is no basis of truth about brother Khaled Mashal leaving Doha. We are in Doha now."

Hamas spokesman Hossam Badran in Qatar also told the AP the report was false.

There was no immediate comment from Qatar, a wealthy Gulf state that has allowed Mashal to set up a base there.