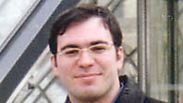 Amidst a corruption scandal in the public sector and the investigation of senior figures in Yisrael Beiteinu, a mystery has reemerged regarding the fate of a former advisor to party chairman Avigdor Lieberman.

Michael Palkov disappeared months ago and is suspected of involvement in the graft affair. Numerous media sources in Ukraine and Russia reported that Palkov, who at one point also served as advisor to Prime Minister Benjamin Netanyahu, and is considered an associate of Minister Naftali Bennett, was killed during battles in east Ukraine – but no official source has confirmed or denied the claim.

Palkov exited Israel some months ago, long before the investigation went public. According to a Tuesday report on Reshet Bet, police said Palkov did not flee the country and that they were not searching for him. Palkov's business partner, Alexander Goldenstein, was arrested soon after the investigation became public on suspicion of laundering money via "IzRus," an Israeli-Russian language news site, owned by the duo.

The silence surrounding the mysterious disappearance has raised more than a few eyebrows. On August 25, the Russian news agency REGNUM published an article with this headline: "Former Netanyahu advisor killed in Donbass: Some questions for Israel". A journalist using Ukraine's National Security and Defense Council as a source reported that two weeks earlier, during battles in the city of Pervomaisk, a burnt corpse was discovered with an Israeli passport under the name of Michael Palkov, born in 1977, with a clear passport number.

Unusually, no official response from Palkov's family, colleagues, or the authorities followed the report of his purported death. Nearly five months after the claim of his death, no authority has confirmed or denied it. The government in Kiev said they believe that Palkov died not a result of being wounded, but as a result of torture. Local commanders received reports about a body being found a week after it was actually discovered. The Ukrainian government forbade publication of the affair, after ruling that the dead man was "no ordinary Israeli".
The Ukrainian Connection
Israel has so far refrained from officially supporting the West's sanctions against Russia. However, Foreign Minister Lieberman has maintained warm relations with the new government in Kiev. Ukrainian officials have therefore been trying to convince Israel that Palkov was a victim of Russian operations in the area.

Palkov's ostensible death could be related to the sudden visit to Ukraine by Israeli politicians last August. Deputy Interior Minister Faina Kirschenbaum, Foreign Affairs and Defense Committee Chairman Ze'ev Elkin, and MK Alex Miller traveled to Kiev at that time. According the Ukrainian embassy in Tel Aviv, the three had a professional relationship with Palkov for many years.

In recent years, until the end of April 2013, Palkov was the owner and editor-at-large of the "IzRus" website, one of the leading Russian-language sites in Israel. Palkov is suspected of having used the site to serve the interests of Yisrael Beiteinu, and also of using it as a cover for the collection of damning information regarding officials and businessmen in Russia and Ukraine who possess Israeli citizenship, real estate, or relatives in Israel.

According to suspicions, Kirschenbaum usually mediated between those requesting the discreet information and Palkov. Allegedly, in exchange for her cooperation, she received more frequent coverage on Palkov's site than other Israeli politicans.