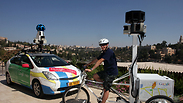 Google Street View to update images of Israeli streets
Photo: Amit Shaabi
Google is returning to photograph the streets of Israel in order to update its Street View application.
After first hitting the streets of Israel in 2012, the special Google cars mounted with cameras will travel down the streets of Tel Aviv, Jerusalem, Haifa and other Israeli cities once again in order to give Google users an elevated experience when trying to navigate their way throughout the country.
Google Street View can be accessed through Google Maps and helps navigators view their surroundings through their mobile screens and enables individuals all over the world to view a realistic image of the streets in Israel.
Security Breach
Images of classified Tel Aviv-area base, clearly visible license plates appear on Google service.
Google uses panoramic images taken by Google vehicles that are mounted with the technology to take the photographs – each vehicle carries nine cameras on its roof. The unique photography involves placing cameras alongside each other in order for them to photograph overlapping images. After the photographs are taken, the images are "sewn" together using special technology which seamlessly connects the photographs to create a 360 degree image.
Israel's streets were first photographed for Google Street View about three years ago, after Google received permission from the Justice Ministry and the security apparatus, and the images were posted on the internet in April 2012.
Google will now return to the same streets in order to update any changes that occurred, as it regularly does in other countries. The Google cars will begin photographing Jerusalem, Tel Aviv, and Haifa and in the coming weeks they will also travel to Netanya, Rehovot, and Rishon LeZion. The photographs will be uploaded to the internet a few months later.
After battling lawsuits in various destinations around the world and following an agreement that was made with the Justice Ministry, Google has promised that the images will undergo editing before they appear on the internet and individual's faces and license plates will be blurred.
Furthermore, Google has established a mechanism that will enable citizens to request images to be blurred if they reveal sensitive information that could violate their privacy. The process involves filling out an online application.