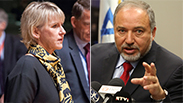 Sweden FM cancels visit after Lieberman said he would boycott her visit.
Sweden's Foreign Minister Margot Wallstrom has canceled her scheduled visit to Israel after Foreign Minister Avigdor Lieberman announced he would boycott her visit and accused Sweden of abandoning Israel just as European countries abandoned Czechoslovakia in 1938 after pressure from the Nazis in the Munich agreement.

The Swedish Foreign Minister was scheduled to arrive in Israel in mid-January in order to attend a memorial service for the Swedish diplomat Raoul Wallenberg who saved Jews during the Holocaust.

In December, Lieberman announced he would boycott the Swedish Foreign Minister's visit.

Sweden also considered the possibility of having Wallstrom meet with Prime Minister Benjamin Netanyahu however they were told the meeting would not take place.

Initially, Sweden had said that Wallstrom would continue with her planned visit; however, in recent days they retracted their decision and announced they were officially canceling the visit and would reschedule for an undisclosed date.

The confrontation between Lieberman and Wallstrom began after the Swedish government recognized Palestine as a state. As a response, Israel called back its ambassador to Stockholm for consultation and after three weeks returned the ambassador to Sweden on a symbolic date – the 29th of November: the day the UN Partition Plan for Palestine was passed.

Wallstrom and Lieberman hurled insults at one another through the media. Lieberman said that the Swedish government must understand that Middle East relations are "more complicated than self-assembled furniture from Ikea."

Wallstrom responded and said that she would be happy "to send Israeli Foreign Minister Lieberman an Ikea self-assembly package." She added that Lieberman "will see that it demands a partner, cooperation, and a good instruction manual."

Wallstrom's spokesman Erik Boman said: "The foreign minister has decided to postpone her visit to Israel and Palestine. Instead of next week it will take place later. No date is yet decided."

Lieberman criticized Sweden's moves in recent days and during a conference for European ambassadors at the Foreign Ministry he said: "The behavior of countries such as Sweden and Ireland – it is simply the same behavior and abandonment that occurred in Europe in 1938 during the Munich agreement: The Europeans abandoned their biggest ally Czechoslovakia. There whole policy towards Israel is abandonment. Even though Israel is the only country that represents western values in the entire Middle East – they abandon us.