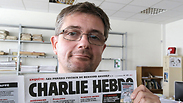 Editor-in-chief of magazine
Photo: AP
France went to its highest level of alert Wednesday after three gunmen armed with Kalashnikovs stormed the offices of satirical magazine Charlie Hebdo and opened fire, killing 12 people and wounding dozens more. A manhunt for the three gunmen and their driver was said to be underway in the French capital.

French President Francois Hollande branded the killings a terrorist attack of "exceptional cruelty", and scheduled an emergency cabinet meeting in the wake of the attack.

The gunmen fled towards the eastern Paris suburbs after holding up a car, police officials said, warning that there could be more attacks.

"There is possibility of other attacks and other sites are being secured," police union official Rocco Contento said, telling reporters that three attackers got into a getaway car driven by a fourth man upon fleeing the building and drove to Port de Pantin in north-east Paris, where they abandoned the first car and hijacked a second – throwing the driver out into the road.

Le Monde newspaper reported that Parisian newsrooms, including their own, were placed under police protection after the attack.

France last year reinforced its anti-terrorism laws and was already on alert after calls from Islamist militants to attack its citizens and interests in reprisal for French military strikes on Islamist strongholds in the Middle East and Africa.

Five of the magazine's journalists killed in the attack have been named, according to reports. They were identified as editor Stéphane Charbonnier, also known as Charb; board member Bernard Maris; and three cartoonists Jean Cabu, Georges Wolinski and Bernard Verlhac, also known as Tignous.

Meanwhile, crowds began to gather in central Paris in the aftermath of the attack, the Guardian reported, in a display of solidarity with the victims. Many people carried banners reading "#JeSuisCharlie" (I am Charlie).