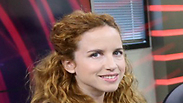 MK Shaffir
Photo: Yaron Brenner
With less than a week left of campaigning ahead the Labor party primaries, many of the candidates for the Knesset list appear to have let their fundraising efforts stagnate. While the majority have not raised any contributions for their campaign, MK Stav Shaffir has shone as the faction's most active candidate.

The young Labor star, seeking a second term, has managed to outperform her competition by raising more donations – and from more donors – than the other candidates. Shaffir has gathered 195,683 shekels from 1,111 individual donors.

The youngest female legislator in the Knesset elicited many donations in sums of 25 or 50 shekels, suggesting she drew overwhelming support from young voters who could not afford significant contributions, and yet felt obliged to provide what little they could.

Among her public supporters were playwright Shmuel Hasfari, singer Aya Korem, and TV executive Shira Margalit. And, it must be noted, all of her donors were Israeli citizens.

Shaffir was trailed – by a wide margin – by former chairwoman Shelly Yachimovich, who raised 155,269 shekels. The leading Labor figure had 541 individual contributors, all from Israel, with former MK Yael Dayan the most notable figure in the list.

In fourth and fifth place on the fundraising list were MKs Nachman Shai and Erel Margalit, separated by a mere few hundred shekels at 140,800 shekels and 140,170 shekels, respectively. Margalit, however, financed the vast majority of his campaign funds with a 100,000 shekel donation from his private accounts.

Far below the leading five were MK Omer Bar-Lev (99,670 shekels) and caucus chairman Eitan Cabel (96,999 shekels). Eitan Broshi, who hopes to attain a realistic spot on the lsit, raised 94,500 shekels.

The gap between the donations raised by Labor hopefuls and their Likud counterparts was vast, both in terms of the amount of contributions and the public profile of the donors. Many Likud candidates managed to raise half a million shekel or more, with much of the funds elicited from foreign Jewry – specifically in the US and England.

On the other hand, Labor – which is not part of the ruling coalition – relied almost exclusively on Israeli residents for its contributions.

This article was translated from Calcalist .