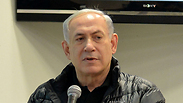 Prime MInister Netanyahu
Photo: GPO
Prime Minister Benjamin condemned the lethal shooting at the Paris headquarters of Charlie Hebdo, a satirical magazine, on Wednesday as "brutal acts of savagery." The Israeli leader said the "civilized societies" of the world had to unite against the scourge of radical Islam.

"The attacks of radical Islam know no boundaries – these are international attacks and the response has to be international. The terrorists want to destroy our freedoms and our civilization," he added, in a message of condolences to the French people.

Calling on "all the free countries," Prime Minister Netanyahu insisted that world powers band together in the fight against terror. "If we stand together and if we are not divided, then we can defeat this tyranny that seeks to extinguish all our freedoms."

The Israeli leader, who was initially scheduled to address the public regarding the extreme weather in the country, emphasized the solidarity felt by Israelis with the terror-hit French. "I wish once again to express the sympathy that all the citizens of Israel feel for the people of France and for the grieving families."

Prime Minister Netanyahu (צילום: עפר מאיר)

He added: "We are experiencing these attacks time and again; we know the pain but we also know the resolution with which free societies can defeat terror – however dreadful, however threatening."

France went to its highest level of alert Wednesday after three gunmen armed with Kalashnikovs stormed the offices of satirical magazine Charlie Hebdo and opened fire, killing 12 people and wounding dozens more. A manhunt for the three gunmen and their driver was said to be underway in the French capital.

President Barack Obama called Wednesday's deadly shooting "cowardly evil attacks" on journalists and a free press and vowed to help France pursue the terrorists who went on the run. He promised to stay vigilant and "hunt down and bring the perpetrators of this specific act to justice, and to roll up the networks that help to advance these kinds of plots."

"The fact that this was an attack on journalists, attack on our free press, also underscores the degree to which these terrorists fear freedom of speech and freedom of the press," Obama said from the White House during a meeting with Secretary of State John Kerry and Vice President Joe Biden.