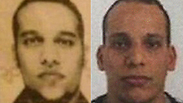 According to French reports, police have identified the three suspects in the lethal shooting that shook Paris on Wednesday. The perpetrators of the attack that claimed the lives of 12 people at a French satirical magazine were an 18-year-old homeless man and two brothers in their thirties.

French newspaper Metro claimed the brothers, named as Said and Sherif K., were French citizens who lived in the 10th arrondissement of Paris. Sherif is known to police for his role in recruiting for global jihad and training in Syria and Iraq.

Another French newspaper, Le Point, reported that police investigators identified the three suspects as brothers Said, 32, and Sherif Kouachi, 34, and Hamid Mourad,18, using the ID cards left in the Citroen C3 with which they escaped the scene of the attack.

The young Mourad was driving the getaway vehicle. The three terrorists have not been caught, but French police has already searched their homes.

France raised the national threat level to its highest level of alert Wednesday after three gunmen armed with Kalashnikovs stormed the offices of satirical magazine Charlie Hebdo and opened fire, killing 12 people and wounding dozens more.

French President Francois Hollande branded the killings a terrorist attack of "exceptional cruelty", and scheduled an emergency cabinet meeting in the wake of the attack.