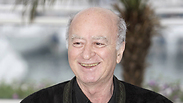 Georges Wolinski
Photo: AP
Jewish cartoonist Georges Wolinski was among the 12 victims killed in a shooting on Wednesday, when masked gunmen stormed the Paris offices of a weekly newspaper that published cartoons mocking Muslim religious leaders. French authorities have not at any stage connected Wolinski's Jewish heritage to the shooting.

Wolinski was a legend in French cartooning, with work stretching back to well before satirical weekly Charlie Hebdo's beginning in 1970. Born in Tunisia in 1934 to a Polish father murdered when he was just two years old and to an Italian mother from Tuscany, Georgie, as he was called by his grandmother, discovered comic books from US soldiers deployed to North Africa.

Arriving in Paris at the end of World War II, he started illustrating his high school newspaper and then moved on in 1961 to a publication called Hara Kiri. When that paper was ordered closed by officials, he moved on with its staff to start Charlie Hebdo.

"We used cartoons to talk about the times we lived in, about society, about women," he said.

In the 1980s and 1990s, Wolinski struck out on his own to work for several of France's leftist mainstream newspapers and magazines. In 1992 he returned to Charlie Hebdo while also publishing his own comic book work separately.

Over his long career, the cartoonist also worked for Action, Paris-Presse, Le Journal du Dimanche, Charlie Hebdo, L'Humanité, Le Nouvel Observateur and Paris Match.

Wolinski published over 80 books, including compilations of his political cartoons as well as comic strips such as "Paulette," for which he wrote the story.

"It's clear that this was a planned attack against Wolinski and the other cartoon artists," the JTA news agency cited well-known Jewish caricaturist Richard Kenigsman as saying.

Satirical newspaper Charlie Hebdo (Charlie Weekly) has on several occasions depicted Islam's prophet in an effort to defend free speech and defy the anger of Muslims who believe depicting Mohammad is sacrilegious.

Israeli cartoonist Michel Kichka, who was acquainted with several of the paper's cartoonists and illustrators killed in the attack, said: "They opened the door towards the possibility of saying and criticizing everything in modern journalism."

Other victims of the attack included the editor-in-chief of the publication, Stephane Charbonnier, known as Charb, Jean Cabut, known across France as Cabu and Bernard Verlhac, better known as Tignous.

Among those killed, Kichka was most familiar with Tignous. "We met, we were at events together. He was a very talented person, with an extraordinary sense of humor mixed with self-deprecating humor, which is for me the measure of a man: someone who knows how to laugh at himself. He was the kind of investigative journalist who would travel to create illustrated articles on social issues, immigrants, the expulsion of foreign nationals and people living in miserable conditions."

Kischka said that that the cartoonists who were killed were pioneers in their work. "They would write a lot in their cartoons and use speech bubbles. You had to be familiar with the language in order to understand what's going on there. They focused on French politics, had no restrictions or taboos, and also dealt with world politics. Every time something in the world happened that was worth taking note of, they did precisely that. They also dealt with what was happening in Israel and were very critical of the country, just like Israeli cartoonists."

As police forces investigate the incident, one French news site interviewed a woman claiming to have been forced to let the attackers into the building.

The woman, Corinne "Coco" Rey, a fashion designer, recounted her harrowing tale to L'Humanité. "I left to pick up my daughter from day care. When I reached the door to the newspaper's headquarters two masked gunmen threatened me brutally. They wanted to enter the building and go up."

"I put in the code… they shot Wolinski, Cabu; it lasted five minutes. I hid under a desk," she said.

More than 100,000 people gathered in cities around France as night fell to pay tribute to the 12 people gunned down in the attack..

In Paris 35,000 gathered at Republique square, not far from where the attack took place, police said. Officials in cities such as Marseille, Toulouse and Lyon also reported thousands gathering in public spaces on the country's darkest day in decades.

AFP contributed to this report.