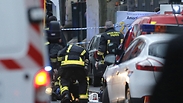 One police officer dead after shooting at police station in south Paris.
Photo: Reuters
A police officer has died and another individual remains in serious condition after a shooting took place at a Paris police station in the southern end of the city. The shooter, who was reported to be armed with an automatic weapon, is still at large.

The officer was stopping to investigate a traffic accident when an assailant opened fire, hitting her and a street sweeper. Emmanuel Cravello of the Alliance police union said she later died of her injuries.

Interior Minister Berbard Cazeneuve said authorities were doing their utmost to identify and arrest the attacker, and he cautioned against jumping to conclusions, a day after masked gunmen killed 12 people - including two police - in an assault on a satirical newspaper.

Cazeneuve left an emergency government meeting to travel to the scene of Thursday's shooting. Paris police said it was too early to draw any connection between the shootings. France is on its highest level of alert.

Meanwhile, the manhunt for two brothers suspected of taking part in the Charlie Hebdo attack was still underway in France, after a third suspect turned himself in to police on Wednesday night.

One of the suspects, Cherif Kouachi, had already served time on terrorism charges and had a history of funneling jihadi fighters to Iraq.

He and his brother, Said, should be considered "armed and dangerous," French police said in a bulletin early Thursday, appealing for witnesses after a fruitless search in the city of Reims, in French Champagne country.

The third suspect. Mourad Hamyd, surrendered at a police station in a small town in the eastern region after learning his name was linked to the attacks in the news and social media, said Paris prosecutor's spokeswoman Agnes Thibault-Lecuivre. She did not specify his relationship to the Kouachi brothers.

French Prime Minister Manuel Valls said on Thursday morning there were "several arrests" overnight in the hunt for two suspects in the deadly shooting at a satirical newspaper. According to the French Interior Ministry seven people had been arrested surrounding the terror attack.

In an interview with RTL radio Thursday, Valls said preventing another attack "is our main concern," as he explained why authorities released photos of the two men along with a plea for witnesses to come forward.

Meanwhile, Muslim places of worship have been targeted with attacks in three different cities in France since Wednesday evening – no injuries were reported according to judicial sources.

Three exercise grenades were thrown at a mosque in Le Mans (west), two shots were fired against a Muslim prayer room in Port-la-Nouvelle (south), and a kebab stand next to a mosque was the target of a criminal explosion near Lyon (East Central), sources said.

France raised its terror alert system to the maximum and bolstered security with more than 800 extra soldiers to guard media offices, places of worship, transport and other sensitive areas. A nationwide minute of silence was planned for noon.