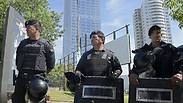 Security forces outside Israeli embassy in Uruguay
Photo: AFP
Security staff at Israel's embassy in Uruguay thwarted a terror attack on the embassy Thursday, local reports and witnesses said.

According to initial reports, security forces found a small explosive device near a building housing the Israeli Embassy, and safely detonated it. Local media claimed the "wires and cables" could be seen protruding from the box.

Head of security at the embassy in Montevideo called the police and alerted sappers to the scene after finding the bag.

The Interior Ministry says police dogs detected the explosive in a supermarket bag during a routine check Thursday.

The area around the device was evacuated as explosives experts detonated it.

The ministry communique notes that the embassy is located on the ninth floor of one tower in the office complex. But it does not say if the embassy is believed to be the target.

The Foreign Ministry refused to comment, saying "we cannot comment on security issues."

A month ago,

shots

were fired at the Israeli embassy in Athens; no injuries or damage were caused. According to reports, four people on two motorcycles fired shots at the embassy building in a northern suburb of Athens. Bullets were lodged in the walls and 54 spent bullet cases were found about 40 yards from the building, police said.

Greek police later said a far-left group was likely responsible for the attack.

Two Kalashnikovs used in the attack were used in a similar assault on the residence of the German ambassador last December by the far-left People's Fighter Group, a police source said in Athens.

Associated Press contributed to this report.