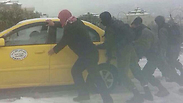 IDF help Palestinians push car through muddy snow
Photo: IDF Spokesman Unit
The Palestinian Authority has requested Israel's help in dealing with snow and heavy rain fall currently covering the region. In one incident, IDF soldiers even helped a Palestinian taxi driver push his car out of the frozen mud.

Snow fell Wednesday across the Middle East as a powerful winter storm swept through the region, after over 30 hours, the winter storm began to let up on Thursday. However, in certain areas, another meter of snow piled up on the ground; in others, only 50-60 cm.

The Palestinians launched their request Thursday, asking the Israeli Civil Adminsitration to help clear the main road to Ramallah from snow, to allow Palestinians to travel to the West Bank's de facto capital.




Together with Coordinator of Government Activities in the Territories Unit (COGAT), Israeli forces joined forces to help plow away the snow, clearing the way for civilian Palestinian movement.




The two sides began cooperating on Wednesday, after the Palestinian authorities in the West Bank and Gaza Strip declared a state of emergency over the storm, after an 8-month-old Palestinian infant in the Tulkarem refugee camp was killed in a fire caused by a heating stove.

In Tulkarem, COGAT officials helped Palestinains help with flooding caused by an overflowing drain pipe. The area saw a Palestinian from Nablus die in similar flooding in last year's cold front.

After a few hours of work, the Palestinians and Israelis helped to clear the flooding and restore the road for safe usage.