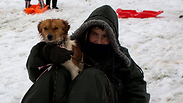 Israelis in the snow
Photo: AFP
Light snow began to sprinkle Jerusalem for a short time Friday morning on the third day of a winter storm that brought about 1.1 meters (3.6 feet) of snow to Mount Hermon in the north. The weather caused the closure of schools and roads in numerous areas in northern and eastern Israel.

Snow fell in the Mount Hebron area and was also expected in the northern Golan Heights, Safed, Metula, and parts of the Merom HaGalil Regional Council. Heavy snow began falling on the Gush Etzion area in the West Bank on Friday morning.

Snow blankets an orchard in Gush Etzion (צילום: מוא״ז גוש-עציון)

Flooding caused the closure of major highways across the country, while bus service from several areas to Jerusalem was halted. In the north, entrances to Safed and the Golan Heights were blocked.

School was cancelled throughout a large swath of Israel, including Jerusalem and its environs, the Golan Heights area, and the West Bank.

The Friday forecast predicted rain in the center and the Negev, with moderate snow falling in the mountains of those areas. Temperatures in Jerusalem were to remain below freezing throughout the day.

The police asked drivers to avoid Routes 1 and 443 leading out of Jerusalem. Should the snow become heavy, the roads will be completely blocked, as they were for much of Wednesday.

Meanwhile, about 10-20 centimeters (4-8 inches) of snow piled up in the Golan Heights, and throngs of Israelis have been traveling to the area despite the closure of roads to the northern part of the Heights.

Some planned to drive off-road vehicles through fields, while others used various ruses to bypass roadblocks.

Scores of vehicles dotted the sides of roads by Thursday, and tens of thousands of visitors were expected to reach the Golan on Friday.

Security forces reminded citizens that crossing fences in the Golan Heights was forbidden, as there was

a danger of mines exploding.