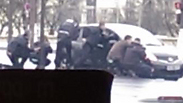 French police outside supermarket
The French Interior Ministry denied media reports that two people were killed when two gunmen took hostages Friday in a kosher supermarket in eastern Paris. In a precautionary move, police ordered all shops closed in famed Jewish neighborhood in central Paris far from attacks.
Reuters reported that the gunman took six hostages, mostly women and children and that police confimed one person was seriously wounded. AFP reported that the suspect was identified as Amedy Coulibaly, a 32-year-old man, and that police were also searching for Hayat Boumeddiene, a 26-year-old woman. According to French newspaper Le Monde, the two were former partners.
President Francois Hollande ordered the country's top security official to the scene, an official in the presidency told The Associated Press. The police official declined to be named when discussing the unfolding situation, which occurred on the eve of the Jewish Sabbath, when the supermarket was likely to have been packed with shoppers preparing for Shabbat.
The events near Paris' Porte de Vincennes took place as two suspects in France's deadliest terror attack in decades were cornered near Charles de Gaulle airport. Police said that the gunman was a member of the same jihadist group as the two suspects in the attack at weekly newspaper Charlie Hebdo.
France24 reported that the gunman at the supermarket was the same man who is thought to have shot dead a policewoman in Paris on Thursday before fleeing into the Metro and successfully evading police.
Jewish sites have previously been targets for terrorist attacks in France. In 2012, a gunman on a motorbike shot and killed a teacher and three children at a Jewish school in Toulouse. The gunman, a 23-year-old Mohammed Merah, a Frenchman of Algerian descent said he attacked the school because "the Jews kill our brothers and sisters in Palestine."