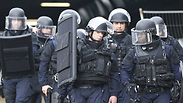 French SWAT
Photo: Getty Images
Police found four hostages were killed and four critically wounded in a Paris kosher supermarket on Friday, where they had been held hostage by a gunman in league with the two terrorists responsible for the Charlie Hebdo massacre. Official sources confirmed the three terrorists were eliminated in simultaneous raids. Gael Fabiano of UNSA police union, said two officers were injured in the assault in Paris' Porte de Vincennes neighborhood.
A police official confirmed the hostage held by the Charlie Hebdo suspects was safe and sound. Security forces had surrounded the building for most of the day Friday, cornering the terrorists. Police SWAT forces could be seen on the roof of the building.
Earlier in the day, Le Figaro reported that a police source claimed the two cases were linked, with the official saying the gunman in another incident, 32-year-old Amedy Coulibaly, threatened to kill the hostages in a Parisian kosher market if police stormed the location of the terror suspects, the Kouachi brothers.
The two cornered suspects in Wednesday's brutal terror attack "want to die as martyrs", a French lawmaker said earlier Friday, after brothers Said and Cherif Kouachi seized a hostage and holed up a town some 40 km from Paris.
Audrey Taupenas, spokeswoman for Dammartin-en-Goele, said officials established phone contact with the suspects in order to negotiate the safe evacuation of a school near the printing plant where the men are cornered. She said the suspects agreed.
Reuters, AFP, and the Associated Press contributed to this report.