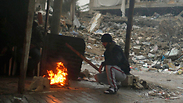 Palestinians seek warmth in the cold weather
Photo: AFP
Four Palestinians, including three babies, have died due to cold weather in the Gaza Strip, an official said Saturday, as winter storms lashed the region.

A 2-month-old girl from the southern Gaza town of Rafah died Friday of "a pulmonary obstruction caused by the cold," Health Ministry spokesman Ashraf al-Qudra said. A 1-month-old boy from Khan Younis died Saturday, he said without giving further details.

On Saturday afternoon, another two-month-old baby girl was found dead in a refugee shelter in Beit Hanoun in northern Gaza. A relative of the baby said she turned blue from the cold by the time she was found.

Additionally, a 22-year-old fisherman was also found dead on Saturday. The head of the Gaza Fishermen's Union, Nizar Ayyash, told Palestinian news agency Ma'an the young fisherman died while working on the shore west of Khan Younis.

Gaza's civil defense service said that dozens of homes in the coastal territory, already ravaged by last year's war with Israel, were flooded in the brutal storms that brought freezing rain and gale-force winds.

Worst hit was the southern town of Rafah, on the Egyptian border.

"After heavy rainfall houses were flooded to a depth of one meter (and) in places one and a half meters," a spokesman said, adding that occupants were evacuated to schools.

The service rescued some stranded people using small fishing boats, an AFP photographer reported.

The West Bank-based Palestinian Authority declared a state of emergency throughout Palestine when the storm hit Wednesday.

More than 100,000 Gaza homes were destroyed or damaged during last year's 50-day conflict and UN welfare officials say that 17,000 displaced people are still living in schools.

Gaza's sole power station, which was damaged during the war, is struggling with a severe lack of fuel and is only able to supply the enclave with six hours of power per day

The storms have also struck other countries in the region with at least three Syrians - including a child - dying of cold in Lebanon.