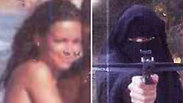 A crossbow in her hands and covered top-to-toe in black Islamic headwear and a robe that leaves only her eyes visible - this is the image now circulating of France's most-wanted woman: Hayat Boumeddiene.

Boumeddiene is the wife of the shooter behind Friday's deadly attack on a Jewish supermarket in suburban Paris, and described by French police as armed and dangerous. She is still on the run.

The 26-year-old is partner to Amedy Coulibaly, one of the three gunmen shot dead by police after three days of mayhem in France. Police suspect she might have had a hand in Coulibaly's supermarket hostage-taking, though she was not identified among the dead or wounded.

INTERVIEW: Shooters admit al Qaeda link, coordination

Meanwhile, France's government urged the nation to remain vigilant Saturday, as thousands of security forces tried to thwart new attacks and hunt down the suspected accomplice in the rampage by terrorists linked to al Qaeda in Yemen that scarred the nation and left 20 dead.

Three attackers were among those killed after three days of bloodshed at the offices of a satirical newspaper, a kosher supermarket and other sites around Paris. But the sense of relief Saturday was tinged with worry and sorrow, as the nation mourned slain hostages, cartoonists, police and other victims.

Related stories:

Al Qaeda's branch in Yemen said it directed Wednesday's attack against the Charlie Hebdo publication to avenge the honor of the Prophet Muhammad - a frequent target of the weekly's satire.

The two brothers behind that Charlie Hebdo attack, Said and Cherif Kouachi, were known to authorities: One had a terrorism-related conviction for ties to a network sending fighters to battle American forces in Iraq, and both were on the US no-fly list.

French radio RTL released audio Saturday of the attacker who seized hostages in the kosher supermarket, Amedy Coulibaly, in which he lashes out over Western military campaigns against extremists in Syria and Mali. He describes Osama bin Laden as an inspiration.

Coulibaly' wife by common law, Hayat Boumeddiene, remains at large. Police named her as an accomplice and believe she is armed. According to the Guardian, the trio had been in telephone contact more than 500 times over the three days, police reportedly said.

One of seven children to a mother who died when she was six, Boumeddiene was put into foster care with her young siblings because her father, a delivery man, was unable to take care of them.

She had a religious ceremony in 2009 to "marry" Coulibaly, though such unions are not recognized in France unless preceded by a civil ceremony conducted by local officials, and the couple lived in a modest apartment in a poor suburb south of Paris.

Le Parisien newspaper said she lost her job as a cashier because she insisted on wearing top-to-toe Islamic wear known as a niqab.

Boumeddiene accompanied Coulibaly several times to a forest in central southern France to fire a crossbow. Le Monde published several photos of the couple holding up the weapon, with Boumeddiene wearing her niqab.




"You must consider her as the companion of a dangerous terrorist who needs to be questioned," Christophe Crepin, spokesman for UNSA police union, told The Associated Press. "Since 2010, she has had a relationship with an individual whose ideology translates into violence and the execution of poor people who were just doing their shopping in a supermarket."
Extreme vigilance
Security forces are deployed around the capital, guarding places of worship and tourist sites, and preparing for what is likely to be a huge demonstration Sunday to show unity against extremists. World leaders including Germany's Angela Merkel and Britain's David Cameron are among the many expected to join.

French Interior Minister Bernard Cazeneuve insisted Saturday that authorities will do everything to ensure security at the event. Speaking after an emergency security meeting called by French President Francois Hollande on Saturday morning, he called for "extreme vigilance," saying that "given the context, we are exposed to risks."

Cazeneuve said the government is deploying hundreds of troops in addition to thousands of police and other security forces and maintaining its terror alert system at the highest level in the Paris region.



He said investigators are focusing on determining whether the attackers were part of a larger extremist network. Five people are in custody as part of the investigation, and family members of the attackers are among several who have been given preliminary charges so far.

This week's drama, which played out on live TV and social media, began with the brothers Said and Cherif Kouachi coldly and methodically massacring 12 people Wednesday at the Charlie Hebdo offices before fleeing.

They eluded police for two days, robbing a gas station and stealing a car. Cherif Kouachi was wounded in the throat by police at one point, the Paris prosecutor said, but the brothers got away. They went on to take a hostage at a printing house in Dammartin-en-Goele near Charles de Gaulle Airport on Friday, prompting a daylong standoff with police




Meanwhile, on Thursday, Coulibaly shot a policewoman to death south of Paris. He, too, fled. Police later determined he was linked to the Kouachi brothers.

Then on Friday he attacked the Paris kosher market, killing four hostages and threatening more violence unless the police let the Kouachis go.

It all ended at dusk Friday with near-simultaneous raids at the printing plant and the kosher market in eastern Paris.

As scores of black-clad security forces surrounded both sites, booming explosions, heavy gunfire and dense smoke heralded the news that the twin sieges had ended.

The three gunmen were dead - but the authorities also discovered four dead hostages at the market. Sixteen hostages were freed, one from the printing plant and 15 from the store.

The attackers epitomized Western authorities' greatest fear: Islamic radicals who trained abroad and came home to stage attacks. France counts at least 1,200 citizens in the war zone in Syria who have headed there, returned or have been found dead. Both the Islamic State group and al Qaeda have threatened France, home to Western Europe's largest Muslim population.

A member of al Qaeda in the Arabian Peninsula gave a statement in English to The Associated Press saying the group's leadership "directed the operations and they have chosen their target carefully."

The attack on the kosher market came before sundown on the Jewish Sabbath, when the store would have been crowded with shoppers, and Hollande called it "a terrifying anti-Semitic act."

According to a Yemeni security official, Said Kouachi is suspected of having fought for al Qaeda in Yemen. Another senior security official added that Said was in Yemen until 2012.

Both officials spoke to the AP on condition of anonymity because of an ongoing investigation into Kouachi's stay in Yemen.

The attacks in France, as well as the hostage siege last month in Sydney and the October killing of a solder near Canada's parliament, prompted the US State Department to issue a global travel warning for Americans. It also cited an increased risk of reprisals against US and Western targets for the US-led intervention against Islamic State militants in Syria and Iraq.

The Charlie Hebdo publication had long drawn threats for its depictions of Islam, although it also lampooned other religions and political figures. Charlie Hebdo has planned a special edition next week, which will be produced in the offices of another paper.

The Associated Press and AFP contributed to this report