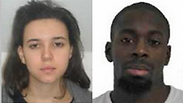 Hayat Boumeddiene and Amedy Coulibaly
The most wanted woman in France, Hayat Boumeddiene, has managed to escape the country a week before her partner Amedy Coulibaly took over a kosher supermarket in eastern Paris, killing four hostages, Le Figaro reported on Saturday.
French security forces were holding a country-wide hunt for her since the attack on Friday, but Boumeddiene, 26, got on a flight to Madrid on January 2, 2015, and from there she is believed to have escaped to either Turkey or Syria.
Boumeddiene, Coulibaly's wife by common law, was described by French police as armed and dangerous and images of her holding a crossbow and covered top-to-toe in black Islamic headwear and a robe, which leaves only her eyes visible, have been circulated in the French media.
Police suspect she might have had a hand in Coulibaly's supermarket hostage-taking, though she was not identified among the dead or wounded.
One of seven children to a mother who died when she was six, Boumeddiene was put into foster care with her young siblings because her father, a delivery man, was unable to take care of them.
She had a religious ceremony in 2009 to "marry" Coulibaly, though such unions are not recognized in France unless preceded by a civil ceremony conducted by local officials, and the couple lived in a modest apartment in a poor suburb south of Paris.
Le Parisien newspaper said she lost her job as a cashier because she insisted on wearing top-to-toe Islamic wear known as a niqab.
Boumeddiene accompanied Coulibaly several times to a forest in central southern France to fire a crossbow. Le Monde published several photos of the couple holding up the weapon, with Boumeddiene wearing her niqab.
"You must consider her as the companion of a dangerous terrorist who needs to be questioned," Christophe Crepin, spokesman for UNSA police union, told The Associated Press. "Since 2010, she has had a relationship with an individual whose ideology translates into violence and the execution of poor people who were just doing their shopping in a supermarket."
INTERVIEW: Shooters admit al Qaeda link, coordination
Meanwhile, France's government urged the nation to remain vigilant Saturday, as thousands of security forces tried to thwart new attacks and hunt down the suspected accomplice in the rampage by terrorists linked to al Qaeda in Yemen that scarred the nation and left 20 dead.
Three attackers - Coulibaly and the brothers Said and Cherif Kouachi - were among those killed after three days of bloodshed at the offices of a satirical newspaper, a kosher supermarket and other sites around Paris. But the sense of relief Saturday was tinged with worry and sorrow, as the nation mourned slain hostages, cartoonists, police and other victims.
Al Qaeda's branch in Yemen said it directed Wednesday's attack against the Charlie Hebdo publication to avenge the honor of the Prophet Muhammad - a frequent target of the weekly's satire.
French radio RTL released audio Saturday of the attacker who seized hostages in the kosher supermarket, Amedy Coulibaly, in which he lashes out over Western military campaigns against extremists in Syria and Mali. He describes Osama bin Laden as an inspiration.