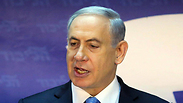 Prime Minister Benjamin Netanyahu, Foreign Minister Avigdor Lieberman and Economy Minister Naftali Bennett will all leave for France on Sunday morning to attend a "silent march" against terrorism, in memory of the 17 victims of several terror attacks in the French capital over the past few days.

Palestinian President Mahmoud Abbas was also expected to attend the Paris rally.

Following the attack on a kosher supermarket in Paris on Friday, which claimed the lives of four people, Netanyahu called French President Francois Hollande, telling him: "The entire people of Israel are with you. Our hearts are with the families of the victims. Israel offers any assistance that France needs."

The prime minister asked Hollande to keep heightened security at Jewish institutions even after the situation returns to normal.

He also spoke to his French counterpart, Manuel Valls, also offering him any assistance that the French authorities might require.

In public comments made on Saturday night, Netanyahu sent the condolences of the citizens of Israel "to the Jewish community in France and to the French people who suffered a murderous terror attack in the last few days."

"These attacks in Paris are a direct continuation to extremist Islam's fight against our culture of freedom and the Western world, actually, against the entire modern world, and also against moderate Arab countries and entire publics in the Muslim world," he said.

Among other expected participants are European leaders including Germany's Angela Merkel, Britain's David Cameron and Italy's Matteo Renzi, and of course, French President Francois Hollande.

Arab League representatives and some Muslim African leaders as well as Turkish Prime Minister Ahmet Davutoglu will attend.

Prime Minister Manuel Valls urged a massive turnout on Sunday. Tens of thousands flocked to local vigils on Saturday, with 80,000 in Toulouse and 30,000 in the Riviera city of Nice and a similar number in Pau in the southwest.
Diplomatic faux pas
Netanyahu's office said initially that the prime minister will not attend the rally in the French capital, noting that the rally includes a march on the street, which raises difficulties regarding Netanyahu's security arrangements, "especially on a short notice."
And so the prime minister's participation will likely not be possible, the PMO said.
But then Foreign Minister Lieberman announced he will represent Israel at the event, which led the PMO to announce shortly afterwards that a flight to Paris has been booked for Netanyahu for 7am on Sunday.
This was met with scorn from the Foreign Ministry. "After he heard Lieberman was going, Netanyahu got nervous," a Foreign Ministry official said. "They know he can't participate in this event because of security issues, but they told the Shin Bet they were going anyway."
Later, Economy Minister Naftali Bennett also announced he intends to attend the rally.