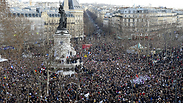 A million take to the streets in show of solidarity but it may not be enough to keep France's Jews.
Photo: AFP
The recent wave of anti-Semitism that has swept over Europe in general, and France especially, along with the recent string of terror attacks in Paris that shocked the world over the past week, are expected to lead to a record-breaking number of French Jews making aliyah to Israel in 2015.

In 2014, 7,000 people packed up their lives in France and made the move to Israel. And now, after an already existent fear felt among the French Jewish community, the massacres at a kosher supermarket in Paris and at the offices of the Charlie Hebdo magazine, along with the murder of a female police officer, have only compounded the situation for the Jews of France.

"It is the right thing to do for my children," said Orly Ben-Sheetrit, 39, who immigrated to Israel this past summer with her husband Ya'akov Steve and their two children.

Meanwhile, in the background lay the words of French Prime Minister Manuel Valls who said on Sunday, "If 100,000 French people of Spanish origin were to leave, I would never say that France is not France anymore. But if 100,000 Jews leave, France will no longer be France. The French Republic will be judged a failure."

Steevo Le Legende, a Jewish blogger who lives in Paris, described a chaotic situation. "We have been suffering from this situation in France since 2000," Le Legende told Ynet ahead of his planned immigration to Israel in February. "The attacks repeat themselves, we are at the beginning of a terror operation and the Jews are in the front row," he said.

On the continued harassment of Jews in France, Le Legende said that "up until three or four years ago, I could wear a kippah on the streets, and today it is very complicated and we must wear a hat on top of the kippah. The danger lies in the Metro, public transportation, and in general there are attacks everywhere, all the time and at any given moment you can run into someone unstable. This means being a Jew in France is problematic."

According to Le Legende, the French authorities are doing their utmost efforts, as far as they are concerned, although they cannot prevent an attack against Jews. "Unfortunately, you cannot have a police officer for every Jew, Jewish school or any other Jewish place. We can be a target of an attack at any moment. This causes a depressed state of mind, and many parents will not send their children to school on Monday until they have the desired security guaranteed."

Le Legend can only conclude that the recent events in France will compound the desire of Jews in France to immigrate to Israel. "I think that in the next year, 15,000 Jews will arrive in Israel. Even those who have no plans to make aliyah to Israel are making sure their passports are valid. God forbid if something happens, at least the papers will be ready. I'm coming to Israel alone. It's an old dream from my youth that is coming true in the end. I ask all the Jews of France to follow my lead and come to Israel."

Regarding the French government's response to the difficult events of last week, Le Legende said that he thinks the French government has not "waken up yet."

"They are still at the peak of the story of the 'sleeping beaty' and I truly fear for the future of France. Just because one million people will rally in the streets does not mean that they will wake up. They enabled the younger generation to take the law into their hands and create areas that cannot be entered by forces where they attack Jews who just want to go home. The French are sitting in a type of trap and I have no idea how they will get out of it. We (the Jews) have somewhere to go. They have nowhere to run away to."

After the horrible attacks that occurred last week, Ben-Sheetrit, who left France to live in Israel and brought her family along with her, says that she is "very hurt because of what happened."

She continued: "I lived not far from the 'Hyper Cacher' and I shopped there several times. I keep thinking that had we stayed there, my children could have been hurt."

Ben-Sheetrit explained that it was the rising anti-Semitism in France that led her to make the choice to immigrate to Israel. "I was simply scared," she said. "(The children) would go to school by bus and I was very scared someone would hurt them. There is a large Muslim community in France, and I feared someone radical would do something."

Ben-Sheetrit arrived in Israel in the midst of Operation Protective Edge, but she says that she was not scared then because "this is our country and it is more safe here than in Paris. Some from my family who stayed in France were planning on making aliyah even before this happened, and there are others who are now thinking about it after recent events. I believe many Jews will arrive now after what happened. The acclimation is not easy, but I believe it is the right thing to do for my children – I want to raise them as Israelis."
Aliyah Fair in Paris
In what now has become a strange coincidence, the Jewish Agency and the Ministry of Immigration Absorption held an Aliyah Fair in central Paris on Sunday that was scheduled before any of the attacks took place.

The fair was designed to inform French Jews and returning citizens above the age of 50 on how to start the process of relocating their lives to Israel. The fair had increased its security to make sure families felt safe as they came to the fair to weigh the option of immigrating to Israel.

Chairman of the Executive of The Jewish Agency for Israel, Natan Sharansky, who accompanied Prime Minister Benjamin Netanyahu to Paris, attended the fair and said: "The Jewish Agency embraces the French Jewish community at this difficult time and is extending its full support by helping provide for the physical security of Jewish communities across France, increasing our assistance to any individual who wishes to immigrate to Israel, and working to ease immigrants' integration into the Israeli workforce and Israeli society."

Dominic, a nurse by profession, arrived at the fair: "The idea of making aliyah to Israel has been something I've been considering for a long time, and it doesn't even have to do with the latest events. My daughter and some of my other family members already live in Israel and I came to look into the option of maybe working in my profession in Israel and see how I can use my pension in Israel. I'm planning on living with my daughter in Kibbutz Gonen, where you can purchase a home in the framework of the community."

Martin, who is close to receiving her pension, has been thinking of making aliyah to Israel for a long time but the rising security threat and wave of anti-Semitism are likely to accelerate the decision-making process. "I do not feel so safe in France," she said. In the first phase, she plans on arriving in Israel on her own and only later will her family join her.

According to The Jewish Agency's figures, 2014 saw a dramatic increase in aliyah from France with the arrival of 7,000 new immigrants, more than double the 3,400 who arrived in 2013 and triple the 1,900 who came in 2012. The French Jewish community is the largest in Europe and the third-largest in the world (after Israel and the United States), with some 500,000 Jews. More than 1 percent of the entire community immigrated to Israel over the course of 2014, which saw the arrival of the largest number of French immigrants in Israel's history and was the first time more immigrants came from France than from any other country. Even before the most recent events, Jewish Agency officials had predicted that the increase in French aliyah would continue and that the number of immigrants from France would reach 10,000 in 2015.

French parliament member Meyer Habib, a loyal ally to the Jewish community in France, said: "I think that we will see a wave of aliyah to Israel that we have never seen before. France is in mourning now and a national unification, but tomorrow we will have to seek conclusions and decide if there is a future for Jews in France. I get hundreds of calls from Jews who do not know what to do. I really love France but if there is no place for Jews – it is a huge problem for France. After the trauma we went through all those who were considering making Aliyah will do so now."

Yaffa Iron-Kutz, Omri Efrain, Itamar Eichner, Rachel Cadars, and Atilla Somfalvi contributed to this report.