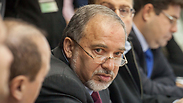 Lieberman claims France identified more with victims of Charlie Hebdo victims than Jewish victims.
Photo: Emil Salman
Foreign Minister Avigdor Lieberman participated in the solidarity march that took place in Paris on Sunday but according to him – the crowd that gathered was showing solidarity for the victims of the Charlie Hebdo massacre and not so much the four Jewish-Frenchmen who were killed in a kosher supermarket in Paris.

"I saw here complete solidarity with the Charlie Hebdo newspaper victims, but what stood out is that solidarity with the victims of the Hyper Cacher attack was almost not felt," said Lieberman of the rally that French President Francois Hollande organized after the series of fatal terror attacks that hit France last week.

More than a million people gathered to take part in the "silent march," including leaders from all over the world. Representing Israel were Prime Minister Benjamin Netanyahu, Lieberman, Economy Minister Naftali Bennett, and former Shas MK Eli Yishai.

Lieberman spoke with the head of security for the Jewish community in Paris, who expressed his worry at seeing the outpour of support on the internet for the terrorist who killed four Jewish-Frenchmen at the kosher supermarket in Paris - Amedy Coulibaly. "Thousands of tweets support him and the web surfers are naming their children after him," he said.

According to Lieberman, Israel has requested France to increase security for Jews within the nation: "Despite high alert in recent years, there have been three attacks against Jews on the continent: In Toulouse, in Brussels and now in the Hyper Cacher. Europe in general and France especially must change their priorities. The Europeans have not yet internalized what their central problem is. We are in contact with the French regarding the war against Jihadists."

Lieberman called on all Jews to make aliyah to Israel. "We have reached a record of aliyah from France but it is still not enough. In 2014, there were 7,000 olim. But this is far from reaching the potential. Over the last week and in recent days, there has been a wave of people who have turned to us as we have never seen before, and therefore we decided to augment the embassy and the representation of the Absorption and Immigration Ministry. Israel has a lot to do before this (wave). For example, transferring funds and recognizing diplomas. At the Absorption and Immigration Ministry we are coordinating all the bureaucratic road blocks."

Lieberman also had something to say about Netanyahu marching in the streets of Paris in the same row as President of the Palestinian Authority Mahmoud Abbas: "It says nothing. Abbas does everything in order to get away from the possibility of dialogue. He is willing to come to Paris with a moment's notice but is not willing to come to Jerusalem to speak with us. He is looking for confrontation and distance."

Itamar Eichner contributed to this report.