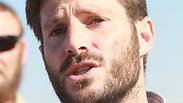 Bezalel Smotrich
Photo: Miriam Tzachi
A potential new member of Knesset for the right-wing, pro-settlement Bayit Yehudi party was for a time under Shin Bet surveillance and was even arrested on suspicion of organizing civil disobedience over the 2005 disengagement from Gaza.

Bezalel Smotrich, 34, was elected Sunday to the second spot on the Knesset list of Tekuma, one of the parties that make up Bayit Yehudi. As a result, he wins the ninth spot on the list of Bayit Yehudi, which is headed Naftali Bennett.

Smotrich was detained in summer 2005 for allegedly planning to block public roads, and released after several weeks. No charges were ultimately brought against him.

In July 2005, it was reported that the Shin Bet seized 700 liters of fuel and oil in the possession of five right-wingers, who allegedly sought to attack Israeli infrastructure to prevent the evacuation from Gaza's settlements. One of the detainees was Smotrich, who was held in a Shin Bet facility.

The five were arrested on suspicion of conspiring to commit a crime, disruption of public transport routes, endangering human life, malicious damage, membership in a banned organization and sedition.

During a District Court hearing for an appeal filed by Smotrich and his fellow suspects, the Shin Bet and police argued that "the arrest of the five was necessary for purposes of investigation, as the authorities have evidence linking them to the acts attributed to them, given the danger at this time of rioting and violence during the disengagement."

The appeal was rejected by the court, a decision mirrored by Supreme Court Justice Salim Joubran.

"The acts attributed to the appellants are serious, especially these days, which are not normal times in our country," Joubran ruled. "The actions of the appellants, blocking roads and damaging infrastructure by placing obstacles on public transportation routes, brought out the emergency services, which had to evacuate traffic jams and the public bustle and therefore caused serious disruptions to public order and normal daily routine, and endangered public safety and welfare."

Speaking Sunday after the primary results, Smotrich expressed his pleasure at his success in securing a high position on the list, and thanked the members of the Tekuma central committee. He refused, however, to discuss his arrest, and said that he would do so at a later date.

Smotrich, a lawyer and father of five who lives in the settlement of Kedumim, is the founder and director of the Regavim movement, which promotes "a Jewish Zionist agenda for the State of Israel", and which has come under fire for an allegedly racist agenda against Arabs.

The Tekuma primaries also determined that Housing Minister Uri Ariel gets the second spot on the Bayit Yehudi list, while MK Orit Struck is now 14th.

Itay Blumenthal contributed to this report.