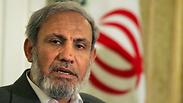 Mahmoud Zahar: Abbas he should take care of his own people
Photo: Reuters
Hamas lashed out Sunday night at after images from the massive rally against terrorism in Paris showed Palestinian President Mahmoud Abbas marching alongside French President Francois Hollande, German Chancellor Angela Merkel - and Prime Minister Benjamin Netanyahu.
"This behavior is part of the hypocrisy and political juggling act Abbas is used to; he thinks that this will earn the sympathy of nations," said Hamas senior official Mahmoud Zahar. "First he should take care of his own people."
The series of terror attacks in Paris last week left Hamas in an awkward situation. The organization was at a loss as to how to deal with the fact that one attack was carried out against the Charlie Hebdo newspaper, which had slaughtered one of the sacred cows of Islamic values, and the other against a Jewish target. At first, the group's officials chose to remain silent, and then only weakly condemned the massacre at the publication while pointedly ignoring the attack on the kosher supermarket.
The Palestinian Authority, on the other hand, issued a firm condemnation against both attacks. Abbas was not satisfied with that, however, and attended the march in Paris, joining a series of world leaders, including Netanyahu, who was walking a few meters away.
For Hamas, this was one step too far.
"Abbas wants to look as if he fights terrorism, even though he does not know the meaning of terrorism," said Zahar.
Zahar made clear that Hamas does not support the slaughter at the paper, but stuck to the party line and did not mention the supermarket attack specifically.
"We condemn any action against any country, but Abbas must first discover solidarity for his own people," he said. "The same goes for those who steal salaries and rehabilitation funds (from Hamas government officials and the Gaza Strip respectively - AL) and leave them to starve in the winter and the frost."
The Hamas official also called Abbas illegitimate leader of the Palestinian people as he and his Fatah movement had lost the 2006 election. He noted that Abbas' legal term as president of the Palestinian Authority had also ended several years ago.
Zahar's attack on Abbas comes against a backdrop of massive pressure in the Gaza Strip, due to the latter's refusal to pay the salaries of tens of thousands of former officials from the Hamas government in the Gaza Strip.
The non-payment has led to great unrest in the Gaza Strip for several weeks - and it is constantly growing. On Friday, a Bank of Palestine ATM in Gaza City was blown up, and an explosive device was placed near the Gaza home of a spokesman for the Palestinian unity government.