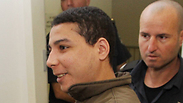 Yusef Nasrallah in court
Photo: Ido Erez
A young Israeli Arab man from the central town of Qalansuwa was caught and tortured by the ruling regime in Syria as he tried to join the opposition forces, it was revealed Monday after a gag order on the affair was lifted.
It appears 20-year-old Yusef Nasrallah was captured by the forces of Syrian President Bashar Assad as he tried to enlist with either the Qaeda-linked al-Nusra Front or the Islamic State. He was tortured and questioned about Israeli security facilities. About a month ago he returned to Israel, and was arrested.
According to the indictment against him, Nasrallah travelled to Jordan in April of last year, and from there went to Syria. He managed to hide for a few days until he was captured and taken in for questioning by the authorities. A few months later, he was transferred to the Palestinian embassy in Damascus and from there taken to Jordan. He was arrested in Israel upon his return, about a month ago.
The charge sheet states that Nasrallah was asked where Israel had hospitalized wounded Syrian rebels, and he said that he had no information on this subject. He was also asked about the existence of an IDF base along Israel's main coastal highway, and had told his interrogators what he knew.
The Syrian interrogators wanted to know how people entered the Palestinian terrotiries from Israel, and whether there were any violent clashes during this process. Nasrallah was also was asked whether he had Jewish friends, and if any of his family had served in the IDF.
"With the actions outlined above, the defendant behaved negligently… his forbidden departure for Syria was a clear risk and led to his capture and interrogation by the enemy, thereby giving the enemy information that could be to its advantage," the indictment said.
Upon his return to Israel, Nasrallah questioned by members of the Shin Bet and police officers from the Central District. He admitted the accusations against him, including leaving the country illegally and passing information to the enemy.
He was indicted by prosecutors from the Central District, who simultaneously filed a request the suspect be held in detention until the end of his trial at Petah Tikva Magistrate's Court.
Nasrallah's family were in court Monday, and his father told Ynet: "My son went to Syria by mistake and was arrested there. He had no ulterior motives. He reached to a certain place and did not know how to return so he had to go on towards Syria. I talked to him after the Syrians released him. He said, 'I really miss you, I came back safe and sound. I don't know how I ended up in Syria."
According to his father, Yusef Nasrallah told him he had been jailed with 120 other prisoners, and because of the harsh diet had lost 20 pounds since his arrest.
"He said that they cursed him and beat him there," his father said.
According to the prosecution, the departure of Israeli citizens or residents to join the jihad in Syria has become a phenomenon that poses a real danger as military and ideological training could be utilized for operations in Israel. Last summer, a resident of Majdal Shams also tried to join the rebel forces, but was also caught by Assad's troops and asked to provide information on the Iron Dome missile defense system.
Moshe Aloni, Nasrallah's attorney says his client is an "abnormal mental state."
Arguing against ongoing detention for his client, Aloni said that Israel had medical documentation of bruises on different parts of Nasrallah's body, which he incurred due to violent treatment during his captivity in Syria.
Raanan Ben-Tzur and Yoav Zitun contributed to this report.