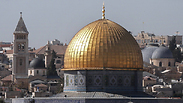 Temple Mount tensions rise again.
Photo: AFP
Israel police and the Shin Bet domestic security agency on Monday closed three Muslim charities suspected of channeling funds to finance "terror", a police statement said.

It identified the institutions as Muslim Women for Al-Aqsa, in East Jerusalem, The Al Aqsa Champions, and the Al-Fajr Foundation for Culture and Literature in the Arab city of Nazareth in northern Israel.

They were suspected of financing "organizations which identify with Hamas" and encouraging activists to confront visitors to the flashpoint Al-Aqsa mosque compound, a site sacred to both Muslims and Jews.

Israeli Defense Minister Moshe Yaalon outlawed all three groups last month. The ministry has the authority to outlaw organizations that it deems a threat to national security. The Shin Bet implemented the ministry's ban

Jews are allowed to enter the compound itself, but are forbidden from praying there for fear of triggering tensions with Muslim worshippers.

Ultra-nationalist Jews regularly visit the esplanade where they can be seen discretely praying in a move which can draw jeers and stone-throwing from the Muslims, which have in the past snowballed into fierce clashes with police.

"The charities... are suspected of paying activists who go every day to the Temple Mount and when groups of visitors arrive they use verbal and even physical violence against them, in a manner that threatens the personal safety of the visitors and strikes at religious freedom," the police said.

The statement said police removed computers, documents and bank records from at least two of the offices and detained for questioning an undisclosed number of people suspected of "financing terror, money-laundering... and tax offences."

The Al Aqsa mosque compound in East Jerusalem is Islam's third-holiest site and the vestige of Judaism's ancient temples. Captured by Israel from Jordan in a 1967 war, it is a focus of Palestinian statehood hopes that Jewish ultra-nationalists oppose.

Israeli police enforce exclusively Muslim prayer at the site, a ban some Jewish activists have campaigned to overturn with stepped-up visits that have sometimes sparked violent confrontations, exacerbating Palestinian anger over Israel's July-August war in Gaza.

The Islamic Movement denied wrongdoing in a statement that related to two of the groups.

Al Aqsa Champions is "a media organization (that is) professional and balanced and focuses only on events inside the mosque" and Muslim Women for Al Aqsa "organizes study for women inside the mosque," the Islamic Movement said in a statement.

Israel has sought to contain al Aqsa violence by limiting Palestinian access at times.

Israel annexed East Jerusalem, in whose walled Old City the compound is located, as part of its capital - the status not recognized abroad.

Jordan, whose religious authorities have run the al Aqsa compound since before the 1967 war, withdrew its ambassador from Israel in November in protest at the situation at the site, saying the countries' two-decade-old peace accord was at risk.