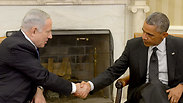 Netanyahu and Obama
Photo: Avi Ohayon, GPO
US President Barack Obama spoke by phone on Monday with Prime Minister Benjamin Netanyahu about ongoing nuclear talks with Iran and about the Palestinian move to become a member of the International Criminal Court (ICC), the White House said.
Obama said he opposes the Palestinians' move to join the International Criminal Court to pursue war-crimes charges against Israel.
"President Obama underscored that the United States does not believe Palestinian accession to the ICC is a constructive way forward," the White House said, repeating the US position that the Palestinian Authority is not a sovereign state and does not qualify to join the court.
"The United States continues to strongly oppose actions by both parties that undermine trust and encourages both sides to seek ways to deescalate tensions."
The US is reviewing its aid package to the Palestinians because of their bid to join the court.
Palestine was accepted as an observer state by the 122 countries that are members of the International Criminal Court in December. Its ratification of the Rome Statute that established the ICC in late December has been accepted at the United Nations, and the state of Palestine will become the 123rd member of the international war crimes tribunal on April 1. The United States is not a member of the ICC, so its views on Palestinian statehood have no bearing on the court.
The White House says Obama also told Netanyahu the US is working toward a "comprehensive" nuclear deal that prevents Iran from getting a nuclear weapon "and verifiably assures the international community of the exclusively peaceful nature of its nuclear program," the White House said in a statement.
The leaders spoke ahead of a meeting between Secretary of State John Kerry and his Iranian counterpart later this week, in which the US top diplomat hopes to accelerate the so-called P5+1 talks between Iran and Britain, China, France, Russia and the United States plus Germany.
Netanyahu has repeatedly warned such a deal could undercut Israel's security.
"The president underscored the United States' enduring commitment to the security of Israel and the importance of continuing close cooperation with Israel on this issue."
Under an interim deal, Iran's stock of fissile material has been diluted from 20 percent enriched uranium to five percent in exchange for limited sanctions relief.
However, two deadlines for a final deal have been missed, and a third on July 1 is looming.
The nuclear talks resume this week in Switzerland.
Reuters, AFP and the Associated Press contributed to this report.