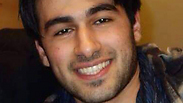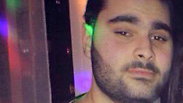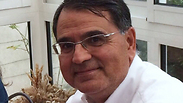 Francois-Michel Saada
Photo: AFP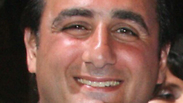 Rivlin: European leaders must return security to their Jewish communities
State funeral for four Paris terror victims held in Jerusalem; President calls on French Jews to choose to make aliyah to Israel, rather than come out of fear for their safety in Europe: 'We will continue to fight for your right to live as Jews – wherever you may be'.
"This is not how we wanted to welcome you to Israel," President Reuven Rivlin told the families of Yoav Hattab, Yohan Cohen, Francois-Michel Saada and Phillipe Braham - the four victims of the terror attack on a kosher supermarket in Paris. Thousands turned out in force on Tuesday to the state funeral held for the four men at the Givat Shaul Cemetery in Jerusalem.
Israeli leaders in attendance including President Rivlin, Prime Minister Benjamin Netanyahu, Opposition leader Isaac Herzog and other ministers and MKs. France sent its Energy Minister Segolene Royal as a representative to the funeral.
At the beginning of the ceremony, members of the four victims' families read the Kaddish prayer and lit four torches in the loved ones' memory.
Francois-Michel Saada's son, Yonatan, said: "Francois-Michel was someone really generous that all his life he put his wife, his children, his friends before himself. He was in love with Israel. He really wanted to live here. He's here now and I'm sure he's really happy to be with you all here."
Yonatan Saada eulogizes his father (צילום: רויטרס)
Valerie, Phillipe Braham's widow, said: "Phillipe, my beloved, was a perfect man. A man who thinks of others before himself, a great husband and father who lived for his children. I'm crying, but I know that you're all crying with me and I thank you all for that. Phillipe, protect me, Naor and Elad."
Yoav Hattab's father, Rabbi Benjamn Hattab, found it difficult to speak. "I accept the judgment of heaven with love," he said.
Yohan Cohen's uncle eulogized him: "When he stood face to face with terrorism, he did not hesitate to demonstrate courage and protected his co-workers and the costumers of the store with his life ... Yohan left us too soon."
The uncle thanked French President Francois Hollande and the state of Israel, "thank you for allowing us to bury our angel in the Holy Land."
'We can't deny this is terrorism'
"This is not how we wanted you to arrive in the Land of Israel, this is not how we wanted to see you come home, to the State of Israel, and to Jerusalem, its capital. We wanted you alive, we wanted for you, life," Rivlin said at the beginning of his heartbreaking eulogy.
He went on to talk about each of the four men in turn. "Phillipe, you wanted to shop for the Shabbat, and what is more Jewish than preparing, shopping on a Friday, for the holy Shabbat day?
"Francois-Michel, the apartment that you bought here in Israel, was ready for your arrival. You so wanted to make aliyah, to live here with us. But you will never now be able to affix a mezuzah upon the doorpost of your home in Israel ... the war came to you, and the murderer's hand destroyed everything.
"Yoav, you were here, just two weeks ago in Jerusalem, for the first time. You stood at the Western Wall, you were photographed wrapped in the national flag. Today, you are here for the second, and the final time. You return as a Jewish hero, at one with us.
"Yohan, you could have got away, escaped, you could have run – but you did not surrender. You fought with the murderer, to save the life a three-year-old boy. You succeeded in that, but paid with your life. Just 20 years old, and already a hero. A soldier for the Jewish nation."
Rivlin condemned the anti-Semitic nature of the attack, calling it "pure, venomous evil, which stirs the very worst of memories. This is sheer hatred of Jews; abhorrent, dark and premeditated, which seeks to strike, wherever there is Jewish life."
And while "the last weeks and months have proven, that terror does not discriminate between blood, we cannot escape the fact that this terrorism, explicitly targets the Jewish people," he said.
"It would be dangerous to deny that we are talking about anti-Semitism, whether old or new," Rivlin said, and called on the leaders of Europe to act and "commit to firm measures to return a sense of security and safety to the Jews of Europe; in Toulouse, in Paris, in Brussels, or in Burgas."
The leaders of Europe, he said, can no longer ignore or act with leniency against anti-Semitic incitement. "Ignorance and violence will not simply go away on their own," Rivlin said.
Rivlin encouraged French Jews to make aliyah and move to Israel, but stressed that "returning to your ancestral home need not be due to distress, out of desperation, because of destruction, or in the throes of terror and fear. Terror has never kept us down, and we do not want terror to subdue you.
"The Land of Israel is the land of choice. We want you to choose Israel, because of a love for Israel."
At the end of his speech, Rivlin vowed that Israel will continue "fight for your right to live as Jews – wherever you may be."
'God will avenge Yoav'
Earlier Tuesday, hundreds attended the start of the funeral of Yoav Hattab in Bnei Brak. Hattab's coffin was placed in the Kisseh Rahamin yeshiva in Bnei Brak, where eulogies were delivered.

The head of the Kisseh Rahamim yeshiva, Rabbi Meir Mazuz, drew a link to the Holocaust in his eulogy. "The terrorists are the scum of the earth, but the holy men did not die in vain. Soon after the Holocaust the state (of Israel) was established. The holy men will pray for the entire people of Israel and let the whole world know there is nowhere (else) in the world that is a refuge to the people of Israel. Terror strikes America, England, Ukraine and now France. There's no safe place in the world. Had they stopped the terrorism on time we wouldn't have come to this. This week they finally remembered to hold a mass rally. Everyone needs to unite and come to the land of Israel."

Rabbi Tzemah Mazuz, a friend of the Hattab family, said: "The people of Israel can rest easy. God, may His name be blessed, will take revenge on all of our enemies - and not just those who killed, but also those who gloated."

MK Eli Yishai, the only politician to attend the ceremony, added: "A heinous terrorist came to murder Jews for being Jews. This is the same terror we experience here in the land of Israel."

Yishai said the murdered men became martyrs who died over Kiddush Hashem. "You are getting to be entombed on the clods of earth of the Holy Land, for which our ancestors prayed and dreamed and gave their lives."

The ceremony ended with the reading of the Kaddish prayer.

Kobi Nachshoni contributed to this report.