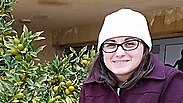 Naomi Mayor. Creating a 'back' for Jewish students on campus
Photo: ADL
As American campuses are turning into a battlefield between Jewish and pro-Palestinian students, a group of non-Jewish campus leaders from 16 universities across the United States traveled to Israel recently on an Anti-Defamation League (ADL) mission, giving college students an up-close look at the complex issues within Israel and the Middle East.

The 18 participants in the annual ADL Campus Leaders Mission to Israel spent eight days in the country from December 30 to January 6. They visited Christian and Jewish holy sites, met with decision makers, government and military officials, diplomats, journalists, religious figures, business people, Israeli and Palestinian students, and ordinary Israelis, both Arab and Jewish.

Anti-Israel Campaign

Op-ed: What began several years ago as a local initiative in a few universities has turned into a poisonous, organized and well-funded campaign with clear goals – isolating and boycotting Israel in general and the Israeli academia in particular.

Talking to Ynet, the students described the tight security around Jewish students on certain campuses, as well as clear incitement and physical and verbal violence.

The group I spoke to during its eight-day visit to Israel is cautious. Ryan, a student from Chicago, describes a very tense atmosphere. He says the campus, in which he serves as a representative of the student union, has become an unsafe place for some students.

Ryan provides accounts of particularly emotionally charges situations on the campus, which includes a high percentage of Muslim students.

"We have Jewish students who have to walk to class with tight security because their personal safety is being threatened by other students," he says. "The peaceful atmosphere and sense of community in our campus are seriously suffering."
A target for pro-Palestinian organizations
He describes, among other things, violent incidents which are currently being investigated.

"Groups which call themselves 'anti-Zionist' and operate outside the student union" have become a dominant voice over the past year, he says. "The anti-Israel boycott, which has gained momentum, has also affected the tense situation.

"As a person who watched the conflict from the side, I noticed that between all the shouting and the tension, most people who take part in this battle, including myself, lack the knowledge to understand what it's all about. That's why I'm here.

One of the members of the delegation, a student of Palestinian decent, refuses to take part in the interview. "She is afraid," one of the organizers explains.

She has a good reason to be afraid. Other students who participated in similar delegations in the past have become the target of pro-Palestinian organizations, to the point of fearing for their personal safety. The ADL decided, therefore, that every interview with the group members would be conducted on a first-name basis only, without mentioning the exact campuses they arrived from.
At the forefront of the revolution
Naomi Mayor, who has been escorting the delegations which arrived in Israel recently, says the Pakistani student is considered active in pro-Palestinian circles, but felt that the information she was basing her activity on was incomplete.
Each of the 18 students was carefully selected, she says. "They are all in senior leadership positions in their campuses and are active in the fields of politics, journalism and social activism.
"There people are today at the forefront of the 'revolution' US campuses are going through, from hotbeds of liberalism and freedom of expression to open and declared anti-Semitism and persecution of pro-Israel activists.
"We have a wide variety of backgrounds and descents in the delegation," says Mayor. "They all share an interest in learning and getting to know Israel in order to receive firsthand information about the things taking place on their campuses today.
"They see demonstrations and protests on a daily basis, and groups of people shouting at each other. Most Americans grew up in homes with pro-Israel opinions, but what is happening there could change the picture."
There are black Jews too
Mayor notes that although ADL tries to introduce the students to the variety of opinions in the Israeli society, the program's declares goal is to create a "back" for those Jewish students who are studying under persecution and alienation in the campuses across the "land of freedom."
"The goal is to make them understands that Israel is not an apartheid state, and that the conflict is much more complicated and challenging than what meets the eye."
Ryan is not alone. Kelly, a student of Latin decent who is active in a university in the state of New York, reports a similar pattern on her campus. She describes constant tension between Jewish students and pro-Palestinian groups, and criticism against Israel's policy, which all too often spills over into "forms of racism and anti-Semitism," which she says she seeks to "combat."
"I don't want to make generalizations or say that it's only my campus, because that's not the case. The automatic link between Israel and the Jews leads to all kinds of phenomena," she says, describing derogatory exclamations against Jewish students in the corridors. "They are seen as responsible for everything that is happening in Israel.
"At the end of the day, the calls for a boycott against Israel, an issue which is significantly taking over the campuses, hurts the Jewish students' feelings. They see Israel as a secure place, a safe haven. At the end of the day, Israel's image as it is reflected in the media, including the conservative media in the United States, is very different from what I see and experience here."
Kelly was particularly excited to find out that there are black Jews living in Israel following a meeting with Knesset Member Pnina Tamanu-Shata of the Yesh Atid party.
"She told me about her immigration to Israel and the escape from Ethiopia, and I was so moved. I suddenly started seeing this place as a place of refuge and an opportunity for a new life for immigrants from Russia and from Ethiopia.
"In the US I didn't have a comprehensive picture of the Israeli diversity, beyond the Arab-Israeli conflict. I suddenly discovered that there are all kinds of Israelis: Ashkenazim and Sephardim. I walked around and saw the huge diversity here, the Arabs and Jews living and working side by side in the market. It's something many Americans should see."
Culture shock
Ryan says he experienced a "culture shock" as well.

"Israel is not what I thought it would be. It's an 'exotic' place for someone like me. I thought that Jerusalem, the source of the tension, would be filled with roadblocks and people distanced from each other, but that's not what I saw. I saw very different people sharing the city."

Amy is the only one in the group who arrived with some background from home. "My father is totally pro-Israel," she reveals. "My parents always say that they would move here if they had family here. He understood the situation here much better than I did, and he's the one who encouraged me to come here."

Weren't you afraid? After all, Israel has an image of being a dangerous place.

"Not for one second," Amy clarifies. "My roommate came here a few months ago as a volunteer, and she told me that she felt much safer in Israel than in the US.

"I came here also because there have been a lot of harsh and anti-Israel statements in the campus I study in (in Austin, Texas), and I felt a need to know more and get to know the issue up close, in order to respond to the Israeli image on my campus," she concludes.