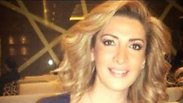 Aisha Jabayli: Husband demanded money to return her children
Aisha Jabayli, 40, is the daughter of a wealthy family from Aleppo, Syria, that owned a prosperous soap factory for many years. At 27, while studying French literature at university, Jabayli met Osama Hamdan, 42, a Palestinian from Jenin who moved from the West Bank to Syria after receiving a scholarship to study dentistry.
"He made an excellent impression on me," Jabayli says. "It turned into a love story; we married and had two kids – Nazir, 11, and Layla, 10."
Over time, she relates, her husband's behavior suddenly changed. "He demanded that I remain at home, started drinking, beat me and because he knew I come from a wealthy family he demanded large sums of money from me," she says.
Jabayli, however, refused to pay; and her husband, who wasn't making it as a dentist in Aleppo, left Syria some three years ago and returned alone to Jenin.
Two years ago, with the war in Syria raging, Jabayli fled to Jordan with her two children. Her husband joined them there, and they had a third child, Yazan. Problems soon arose again. "My husband demanded that my family finance the lease on a dental clinic in Amman. I told him that our financial situation had deteriorated because of the war – and then the problems between us got worse."
A year ago, Jabayli was invited to a creative writing workshop in Istanbul. "Although we had an 8-month-old baby at home, my husband encouraged me to go, and even pressured me to do so," she recalls. "'I'll take care of the children, and all will be fine,' he promised."
Jabayli was swayed and never once imagined she was being set up. "I returned to Amman a week later and was shocked to find the house empty," she says, adding that she searched high and low for her husband and three children before learning from friends that Osama had abducted the children to Jenin.
A month or so later, she received a message: If you want to see your children again, come up with $150,000.
"When I realized my husband was trying to extort money from me, I filed a petition with a court in Amman that issued instructing him to return my baby to me," Jabayli says. "A legal problem arose with regard to the two older children because my husband managed to register them at the Israeli Interior Ministry as Palestinian citizens."
Ever since, Jabayli has made every effort to get to Jenin to see her children; but because she is a Syrian citizen, she has been unable to secure a travel permit. In desperation, she has written of her distress to King Abdullah of Jordan and Palestinian Authority President Mahmoud Abbas, but both have ignored her; and at her request, journalists in Jordan and the West Bank have published her heartbreaking story, but to no avail too.
"My husband has a heart of stone," says the desperate woman. "Either I give in to his financial demands or I never see my children again."
Left with no alternative, she decided to bring her story to Israel, in the hope of finding salvation here.
"I'm not speaking to you now as a Syrian, but as a woman in distress," Jabayli says tearfully.
"I want my story to be published in Israel because I know that senior PA officials read your press. Maybe this is the way to prompt them into action, to get them to return my children to me. I have a court order, and no one cares. My heart is bursting with anxiety and longing, and I'm afraid they will forget me. I have only one dream – to get to my children, to hug them and to raise them."