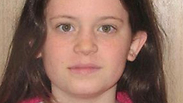 Ayala Shapira still has a long recovery ahead.
Photo: Courtesy of the family
The condition of an 11-year-old girl, who was seriously wounded three weeks ago when a Palestinian threw a Molotov cocktail at her father's car, has improved. Thanks to technology that was especially brought for her to the Sheba Medical Center, Ayala Shapira is now able to communicate with her family.

When she first arrived at the Sheba Medical Center, Ayala was anesthetized and ventilated however she gradually regained consciousness. Ayala still has a long recovery ahead of her but she can now communicate with her parents.

"It's not my daughter's voice but rather the voice of the machine, but this is a huge relief, especially for her," said Ayala's mother Ruth. "Now she is understood, it is a completely different feeling. She speaks primarily about the present. She is very involved in the present. She speaks also of her sisters. She sends her regards and says she loves them. We tell her of the wisdoms of her younger sisters so that she is kept party of the family."

Ayala has been hospitalized in the Children's Intensive Care unit at the Sheba Medical Center ever since the attack. Her father, Avner Shapira, suffered light to moderate wounds in the attack and was hospitalized in the burn unit of the hospital.

"I am progressing and healing and I still have a way to go," said Avner. "And Ayala is also progressing and improving and she has an even longer way to go. She speaks primarily of the physical pain."

Ayala must still undergo long and continuous treatments in order to treat the severe burns she sustained and additional wounds she suffered after the Molotov cocktail exploded between her feet in the vehicle.

Because of the improvement in her condition, Ayala is scheduled to be transferred out of the intensive care unit. "This is good news, it gets us closer to returning home," said her mother Ruth.