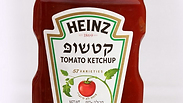 Heinz ketchup
Photo: Yoni Reif
Osem has launched a campaign against its main ketchup competitor Heinz, claiming the latter's sauce does not meet the criteria for ketchup and instructing retailers to remove it from their shelves.

After conducting lab tests on the Heinz product at its own initiative, Osem on Tuesday morning sent a letter to retailers asking them to remove the Heinz product from their ketchup section, and not place it next to Osem's own product.

The letter, signed by Osem Trade CEO Nizan Goldberg, states: "We wish to bring it to your attention that we recently discovered that the product marketed as Heinz 700g ketchup only contains about 21% tomato concentrate and not the 61% tomato concentrate as advertised on the product. The product has been tested in a leading European external laboratory, which produced these findings.

Israeli trading standards define ketchup as having 41 percent concentrate.

"The incorrect indication of tomato concentrate in the products severely misleads the Israeli consumer public and is a violation of the provisions of the law to protect consumers," the letter states.

"This information has also been sent to the Diplomat company and the authorities. Moreover, under Israeli law, the presence of lower quantities of fortified tomato concentrate prevents the product from being called ketchup and it cannot be sold as such."

Heinz ketchup is imported and distributed by the Diplomat Group, considered to be one of Israel's largest distribution companies, with some of the most successful brands and leading products in their categories.

In the case of ketchup, it is actually Osem that has the monopoly on sales, with Heinz a distant second. Therefore, Osem's conduct does raise some questions of motive.

Nonetheless, it seems that Osem's attack comes as Heinz is increasing the marketing and operational activities of its ketchup. Osem currently has two-thirds of the ketchup sales in Israel, with Heinz claiming most of the other third. The price difference between the two is minimal, with Heinz ketchup costing 13-14 shekels and Osem costing 11-13 shekels.

Retailers have responded angrily to Osem's latest push, and refused to remove Heinz ketchup from their shelves.

"Osem competes with Heinz via the consumer and the shelf, and the only one who can tell me whether Heinz ketchup is valid or not, is the Ministry of Health," supermarket magnate Rami Levy told Israel's Food Network.

"Only when we get a letter from the regulator proving that it is not ketchup and ordering us to take the product off the shelf, will we remove it. We cannot have every company testing its competitors and issuing instructions to retailers to remove products from their shelves."

The Diplomat Group said in response to Osem's initiative: "We have been informed that Osem has sent various retailers a letter in which it dares to claim that Heinz ketchup cannot be called ketchup. Heinz ketchup known as ketchup in 130 countries, but according to Osem this is illegal in Israel.

"Obviously, Osem, which has a monopoly, would be happy if it were only possible to sell their product in Israel. But Osem's claims have no substance. It is relying on a standard that is not official or binding. This assertion is backed by legal opinion!"

Osem accused Heinz of blurring the issue with faux outrage, and insisted that its findings were correct.

"The company contacted Diplomat five weeks ago and presented the laboratory findings conducted in Britain. The findings point to consumer fraud as well as the fact that, according to Israeli law, Heinz ketchup sold in Israel does not meet the definition of ketchup. So far there has been no response regarding the composition of the product, but rather aggressive reactions that attempt to change the subject and conceal the facts."